Manchester City
'David Silva is the wizard!' - Man City's 50-goal star earns Kompany praise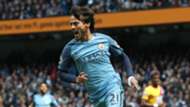 Vincent Kompany has branded Manchester City team-mate David Silva "the wizard" after seeing him reach 50 goals for the club.
The Spanish schemer hit that landmark by netting in a 5-0 mauling of Crystal Palace on Saturday.
The World Cup winner is more renowned for his creative ability that his goal-getting skills, with his half-century haul complemented by a healthy number of assists.
Silva is approaching seven years of service at City, in which time has landed two Premier League titles and the FA Cup, with his value to the cause not lost on those around him at the Etihad Stadium.
Kompany told the club's official website: "Quite simply David Silva is the wizard.
"He knows which pass to pick. As much quality as we have in the team, there is only David that can pick certain passes and I think he sets the tone with that.
"I can't only say that he has been performing well this season, he has been performing well since he joined the club.
"It is incredible to see his ability and make what is the hardest pass in football, that last pass."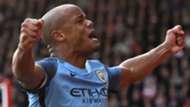 City skipper Kompany was also on target against Palace and he believes the injury troubles of his recent past are now behind him.
The Belgium international added: "The story is done now. I am playing, I am happy. I'm just glad to be able to contribute.
"[My form] has been good. My level has been good since I came back.
"I work hard to be able to perform at the same level.
"In that case, I can be pretty satisfied, but I am mainly satisfied with today's performance."