Transfers
Crystal Palace sign South African-born youngster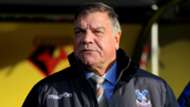 Tavares, who hails from Cape Town, played at the Hellenic Academy for 18 months before Sam Allardyce's side offered him the contract.
Palace are presently second from bottom in the Premier League and are starring relegation in the face as recent results have not been going their way.
The 18-year-old is currently a junior international with Croatian national team.
He also played at various football academies, including Brentford and Brighton & Hove Albion. Tavares had spells at Middlesbrough and Wolverhampton Wanderers.
This was after his South African-Portuguese father and Croatian mother decided to move to England four years ago to further his footballing career.
His brother, Marco, who is a goalkeeper, is also said to be an exciting prospect with a bright future ahead of him.
Tavares is still  eligible to play for Bafana Bafana despite having donned the colours of another national association already albeit at junior level.