African All Stars
Is it 'make or break' for Ahmed Musa against Liverpool?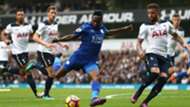 ---
COMMENT 
---
A certain level of pressure usually follows a big-money move. After all, it's only normal to expect a certain level of return on an investment...particularly considering the fees flying around football these days. 
For Ahmed Musa and Leicester City, though, nothing it seems has gone right for the pair since the forward signed in the summer of 2016.
For a period right after the attacker was acquired from CSKA Moscow, he was the then-champions' record signing (before Islam Slimani's deadline-day purchase from Sporting Lisbon) and was meant to push them to the next level.
The impressive start to his career at the East Midlands prompted suggestions it'd be money well spent by Claudio Ranieri, yet, while he performed admirably against Barcelona and Manchester United in the International Champions Cup and Community Shield respectively, he failed to kick on and build on those performances.
In fact, those games – most especially the performance against Barca – were the highlight of his first season in England. It seemed to go downhill for the former CSKA hitman from there as the attacker seemed out of place in the side.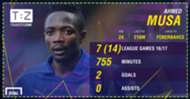 Perhaps things could have turned out differently had Jamie Vardy not rejected Arsenal's advances in the same summer and elected to stay at the club.
The Nigeria international was brought in as a replacement for the Englishman in anticipation of him moving to the North London club, but with that transfer breaking down and Ranieri then going on to purchase Slimani from Sporting, there seemed to be no method to Leicester's transfer window madness.
Consequently pushed to the wings to compete with starters Mark Albrighton and Riyad Mahrez on either flank, the wideman struggled to get into the side as Ranieri's men toiled.
The Italian was axed in late February and was replaced by Craig Shakespeare. However, Musa fortunes didn't change and he only saw 55 minutes of football under the new gaffer. Two goals, no assists and barely any impact in 21 appearances; surely not what the doctor ordered.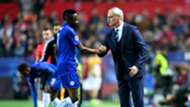 Linked with a plethora of clubs all summer, nothing seemed to materialize for the Nigeria international and he's stayed at Leicester.
Having had an indifferent pre-season, he was left out of completely of the season opener against Arsenal and yet again against Brighton & Hove Albion a week later.
He returned in the Second Round of the Carabao Cup and had a storming game which was capped with a goal at the death in the Foxes' 4-1 win over Sheffield United at Bramall Lane.
Was that performance proof of Musa's unwavering ability, or perhaps, nothing needed to be made out from it due to the strength of the opposition?
Shakespeare seemed to think it was the latter, though, evidenced by him leaving out the rapid forward in the three subsequent games against Manchester United, Chelsea and Huddersfield Town, even though he'd just ended his 22-match goal drought.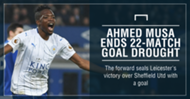 With the attacker seemingly unable to get anything but cup games for the East Midlanders, he'll surely be gearing up for Leicester's third-round fixture against a Liverpool side there for the taking following their recent run of results which has seen their defence falter time and again.
The forward's pace and directness can definitely cause a few nernous moments for the Reds, and considering Shakespeare's decision not to give him gametime in the league, he'll need no extra motivation going into this encounter.
Musa will surely be desperate for his manager to give him the chance to make an impression, as considering Leicester's wealth of attacking options, and Liverpool's defensive struggles, opportunities to reaffirm his qualities may continue to be few and far between.