Africa Women Cup of Nations
Cosafa: Zimbabwe hands Kenya biggest defeat in Cosafa semis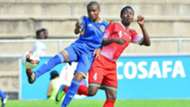 Kenya's fairy tale run in ongoing Cosafa championship came to an abrupt halt after falling 4-0 to host holders Zimbabwe in the semi-final.
This was Kenya's first defeat in the tournament as heavy as it came while Zimbabwe booked their third Cosafa final against South Africa.
Harambee Starlets could not break a physically fit and a tactical Zimbabwean side in one of their toughest match in the recent times. Kenya found themselves chasing the shadow, just 11 minutes from the whistle when Zimbabwe took the lead through pacy forward Rutendo Makore.
Makore, who took part in the last Olympic Games with the Mighty Warriors, powered her 9th goal of the tournament past Pauline Atieno, with a right foot shot after picking a pass inside the box before the hosts doubled the lead with a minute to the break from another defensive error.
Kenyan defence was a bit disjointed in the first half and found it hard taming the 24-year-old Makore, who posed great danger  whenever she had the ball.
Kenya's midfield did not make things better either when they allowed Zimbabwe to pile pressure on the defence with some quick but accurate passes.
Neddy Atieno was kept at bay and rarely found space to penetrate Zimbabwean defence line and bad day in Zambabwe was compounded by her midfielders' inability to supply her with the ball up front.
Merita Kabwe doubled Zimbabwe's lead after capitalizing on Shikobe's poor clearance from header to give the host a two-goal advantage into the break.
Zimbabwe picked from where they left when Marjory Nyaumwe put things beyond reach for Kenya eight minutes after the break with the Mighty Warriors' third goal.
Zimbabwe made it four in the 91st minute to crash Kenya's hopes of booking their maiden Cosafa final in fashionable style.
Kenya will now play Zambia in the second and third play-off as Zimbabwe squares it out against South Africa in a repeat of 2011 final.
South Africa edged ot Zambia in the other semi with a 5-2 (3-3) goal in a penalty shootout to book a date with the defending champions.
Starlets XI: Pauline Atieno, Mwanahalima Adam, Juliet Auma, Dorcas Shikobe, Neddy Atieno, Caroline Anyango, Pauline Musungu, Carolyne Chepkoech, Lucy Mukhwana, Wendy Achieng and Dorris Anyango.
Reserves: Esther Nandika, Lilian Adera, Cheris Avilia, Janet Bundi, Phoebe Owiti, Monicah Karambu, Florence Awino, Jenipher Adhiambo and Mercy Achieng.