Friendlies
Clarence Seedorf coaching career under scrutiny as Cameroon face Brazil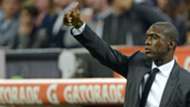 Cameroon coach Clarence Seedorf has defended his coaching career following mixed views on his start with the Indomitable Lions and previous unsuccessful managerial spells in Italy, China and Spain 
The Brazil match Brazil at Stadium MK will undoubtedly further thrust into spotlight the 42-year-old's coaching pedigree. Cameroon go into this match fresh from a 2-0 defeat by Morocco in an Africa Cup of Nations (Afcon) qualifier last Friday.
"Playing Brazil is always special - it will be a huge experience for all of the players and for us coaches too," Seedorf told BBC.
"It is a great testing moment, to understand where we are as a team and also, beyond the result and what happens in the actual match, the way we prepare and the attention around it will help us for important games in the future.
"When I went to AC Milan, they were four points away from the relegation zone and by the end of the season we were just one goal away from being in the Europa League.
"In China I maintained the same results the team had been getting before, and although I could not take (Deportivo) La Coruna out of the relegation zone, people who saw the matches saw how we were playing and the evolution of the team.
"Unfortunately results are the only thing that some people look at, but there is more to defining success than just stats. I am a winner - and I like to win - but I cannot think that, if I lose, I did not do a good job, because there are other external factors involved.
"I know what I do on a daily basis and how it improves players individually and how my teams have improved. People who really want to understand how I work will appreciate what has been done."
Since being appointed Cameroon coach in August, Seedorf has managed a hard-fought 1-0 narrow win over Malawi, two draws against much less-fancied Comoros and Malawi as well as the defeat to Morocco.
The ex-Real Madrid and AC Milan midfielder is however not moved by the fact that he coaching career is yet to glitter, rather saying he is ready to face any challenge.
He faces the insurmountable task would be helping Cameroon defend the Afcon crown as they host the tournament next June. "Of course African teams are underachieving when you think of what their potential is," said Seedorf.
"That is one of the reasons I took this job. We want to change things and make a contribution to African football. The potential is incredible, the talent is incredible, so it is really about organising and creating a structure on and off the pitch for that to flourish.
"This is my life now as Cameroon coach - I am not a player any more so for me it is now about building my career as a coach. It does not only feel like a new career, it actually is one, and I am happy with that.
"I am very satisfied with what I did as a player so I am not looking back with any strange feeling about that - I am ready for the new challenges you get as a coach - like this one.
"A lot is new for me now - a different environment, a different country, a different culture and a different mentality, but it is exciting to have to adapt, and it is fun too."
Seedorf's coaching career is in stark contract to his playing days that saw him win four Uefa Champions League trophies. The friendly match against Brazil will be his fifth game in charge of Cameroon.