Azam
Cioaba: "We will be taking the Federation Cup very seriously this season"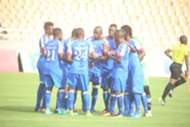 Azam FC head coach Aristica Cioaba has made the Azam Sports Federation Cup a priority following their home 3-1 triumph with KMC on Saturday.
The Ice Cream Makers side reached the quarter final of the tournament after their recently poor route in the Vodacom Premier League (VPL) matches which they won just one in their last five. They are off the pace in the VPL as a result of Simba SC amazing form this season. 
Currently Azam FC sit third on the table 12 points adrift to leaders Simba SC.
Speaking to Goal the Romanian boss said that to ending a season with a piece of silverware will be good enough for his squad this season in order to build a vital momentum for the next term.
"We were unfortunate to exit at the semi-final of Azam Sports Federation Cup last season and we will be taking it very seriously this term around, the Ligi Kuu trophy will be too much for us this season but we will focus until the end," Cioaba said.