Betting
Can in-form Leicester City shock Manchester City to turn Premier League title race on its head?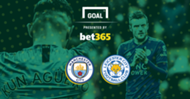 And so the title race likely comes down to this match as Manchester City host an impressive Leicester City at the Etihad Stadium on Tuesday morning (AEST).
This is with all due respect to City's final round opponents Brighton, who haven't a won a league match since the start of March, but Brendan Rodgers' Foxes are playing good football have the ability to stun Pep Guardiola's nervy machine.
The equation is quite simple for City - win against Leicester and Brighton and a second consecutive Premier League title is theirs, regardless of how Liverpool go against Wolves next weekend.
But taking all three points from the Foxes will be tough especially considering the improvement Rodgers is getting out of the 2017 champions, who have only lost two of eight league matches since the Northern Irishman was appointed, and are coming off a 3-0 thrashing of Arsenal at the King Power Stadium.
City have only suffered four losses this campaign, one at the hands of Leicester in January, with Jamie Vardy getting an assist for the equaliser before Ricardo Pereira's 81st minute winner.
Vardy has been a thorn in the side of the Premier League's elite since his 2014-15 debut in the division, scoring 31 goals the 'top six' - which is more than any other player in that time.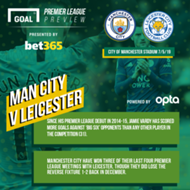 At one stage in late December, City trailed Liverpool by an extraordinary 10 points, but have won their last 12 consecutive league game and 16 of the past 17 to wrestle grip of the title from the Reds in unbelievable fashion.
Guardiola's side have won all of their home league games - except a shock 3-2 loss to Crystal Palace in December - and will be confident of continuing their strong home form even considering the good form of Leicester City.
If they manage to get all three points against the Foxes, a win against Brighton should be the easier of the two fixtures. But stranger things have happened in a title race.
Article promoted in partnership with  bet365 . For most up to date odds, go to  bet365.com.au .