CAF Champions League
Caf Champions League: Plateau United to face Etoile du Sahel in Kano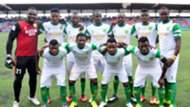 Plateau United have agreed to move their Caf Champions League first round, return leg clash with Etoile du Sahel of Tunisia to the Sani Abacha Stadium, Kano after their Zaria Road Stadium did not meet the Confederation of African Football requirements.
Team Manager of the Peace Boys, Abel Iliya revealed that Caf wrote to them while they were in Tunisia that the Zaria Road Stadium won't be approved for the second leg tie because of the stadium lacked some basic facilities to host the blockbuster fixture.
He said the Nigeria Football Federation also waded into it, making a frantic effort to see if the stadium would be approved for the encounter but Caf stood their ground and insisted that those facilities must be put in place before its approval.
"When we were in Tunisia for the first leg match, we received a letter from Caf notifying us that the return leg match won't be held in Jos because of some essential facilities lacking like the absence of scoreboard, the uncovered VIP section, and lack of perimeter fencing to ward off crowd encroachment," IIiya told Goal.
"There were other issues raised and despite the fact that the NFF made a frantic effort to ensure that we remain in Jos, Caf didn't agree and we have prepared our minds towards facing them in Kano and not Jos.
"We know that we won't have it easy qualifying for the group stage especially without the support of fans who all may not be able to travel to Kano but, we will do our utmost to get the result that will take us to there.
"The players know their responsibilities and the management is doing their best to ensure that everything works according to plan. We must build on our strong finish in Tunisia to get the needed goals that will take us to the group stage."
Etoile du Sahel led 4-2 after the first leg played in Sousse and Plateau United must score at least two unreplied goals to stand a chance of qualifying for their debut group stage in Africa's lucrative club competition.