Tunisia
Katsande retires from international football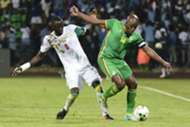 Willard Katsande has announced his retirement from international football at the age of 31. 
The Kaizer Chiefs midfielder played his final game as Zimbabwe crashed out of the 2017 Africa Cup of Nations following a 4-2 defeat to Tunisia on Monday night. 
Katsande made his debut for Zimbabwe in 2010 after impressing national team selectors whilst on the books of Gunners FC.
He has gone on to make a total of 19 appearances for his country and scoring three goals in the process.
Despite his experience, the 2017 Afcon tournament was Katsande's first and last as a professional footballer.
He featured heavily for the Warriors during the 2012 Afcon qualifiers. Zimbabwe failed to qualify for the finals in Gabon and Equatorial Guinea.
Katsande broke the news of his retirement to Goal soon after the final whistle at Stade d'Angondje.  
"It's now time for the youngsters. I think I need to pave way for the youngsters to carry the team going forward," Katsande told Goal. 
"Whenever I am needed, I am going to give my support, but at the end of the day, for me... I say to Zimbabwe, 'thank you very much. I have played my part. I think it's time for the youngsters to carry this team going forward'," he added.