Ligue 1
Bordeaux boss Poyet suspended by club after disagreement with chairman over player sale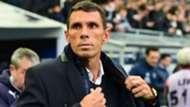 Gustavo Poyet has been suspended by Bordeaux after a disagreement with the club over a transfer conducted by the club.
The former Chelsea midfielder was angry that Gaetan Laborde was sold to Montpellier without his consent.
Indeed, Laborde was scheduled to meet his team-mates before their Europa League clash with Mariupol, but did not show. Poyet learned of his move by calling the player.
"I am not happy today. This is my worst day at this club," he said.
"It's a disgrace what the club has done today with Gaetan Laborde. I told the club he could not leave until we bought another player. They did not listen and let Laborde go.
"We arrived at the hotel today at 11:45 and Laborde was not there. We called him and he was in Montpellier.
"Nobody told me anything!"
Club president Stephane Martin confirmed on Friday that Poyet will be suspended from duties for the next week before a follow-up meeting next Friday to determine his long-term future.
"Gustavo Poyet went overboard yesterday, so we decided to dismiss him this morning," he told a news conference.
"Before talking about the future coach, we will wait until next Friday."
Bordeaux lost their opening Ligue 1 game, falling 2-0 to Strasbourg at home.
Players reportedly refused to train after learning of Poyet's fate, with it initially reported that he had been sacked. The ex-Blues and Tottenham star has been in charge at the club since January.
Bordeaux finished the 2017-18 season in sixth.