MLS
Berhalter proves USMNT credentials as Crew halt Rooney & D.C.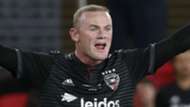 If Gregg Berhalter's days as Columbus Crew head coach really are numbered - he is expected to be hired as the next U.S. national team coach - then his coaching performance on Thursday can be offered up as evidence of the kind of effective tactician he could be for the USMNT.
Facing a red-hot D.C. United on the road, Berhalter needed to find a way to neutralize the dynamic duo of Wayne Rooney and Luciano Acosta, who had partnered up to carve up opposing defenses during a 10-match unbeaten streak that ended on Thursday.
Berhalter did just that, setting his team up in a system that limited D.C. United's passing options and effectively kept Rooney and Acosta relatively quiet, and nowhere near as dominant as they had been in the past two months.
"We focused on the plan of how to stay compact, how to prevent central passes, and the guys did a really good job executing," Berhalter said. "There wasn't space, there wasn't many options for them, and you take two high-caliber players out of the game and it helps your chances to win."
The Crew stayed compact and organized, and with defensive midfielders Wil Trapp and Artur clogging D.C. passing lanes, it was tough for the home team at Audi Field to generate few clear-cut chances.
In fact, it was an uncharacteristic Zack Steffen blunder that gifted D.C. United an early Frederic Brillant equalizer, and then a stunning 115th-minute volley from Nick DeLeon that kept D.C. in Thursday's Eastern Conference knockout round match, cancelling out a pair of Federico Higuain goals for the Crew.
From there, it was up to Steffen to atone for his mistake, and he did just that, playing the playoff penalty shootout hero for the second straight year, stopping both Rooney's and Acosta's penalties before DeLeon fired his attempt over the bar to send the Crew to the Eastern Conference semifinals.
Steffen's penalty heroics came a year after he also played the penalty shootout star in a playoff win against Atlanta United.
"Experience is everything," Steffen said. "So to go into this game having felt these feelings already from last year was a slight advantage, and I thought the guys btatled hard tonight."
Some post-match thoughts on the Columbus Crew's Eastern Conference knockout round victory over D.C. United in the penalty shootout, which saw Zack Steffen play the shootout hero once again in the #MLSCupPlayoffs : pic.twitter.com/BMWrBjimLD

— Ives Galarcep (@SoccerByIves) November 2, 2018
Steffen's penalty heroics were made more impressive by the fact that he had to overcome a first-half error when he misplayed an Acosta cross, failed to catch it, and watched the loose ball be headed home by Brillant.
"He's calm. He's a calm guy. He came in at halftime and said 'Thanks for bailing me out guys'," Berhalter said of Steffen. "He knew. He knew what his mistake was, and I think that's a real underrated quality of Zack. His ability to stay composed, and even if he makes mistakes — and he's had very few this year — he's able to stay calm and play through it."
"Mistakes are going to happen, especially as a goalkeeper," Steffen said. "The ball's going to end up in the back of the net. You've just got to move on and stop the next one. You can't focus on it, it's in the pass, you'll learn from it and you've just got to move on."
Steffen showed he had shaken off the mistake in the second half, when he made a finger-tip save late in regulation to deny an Acosta shot. Then, with Rooney taking the very first kick for D.C. United, Steffen set the tone for the shootout, making a full-stretch save to deny a well-taken attempt by the ex-Manchester United star.
Zack Steffen discusses the penalty shootout, and shaking off his first-half mistake to help the Crew beat D.C. United. #MLSCupPlayoffs pic.twitter.com/TFsfSGwRkx

— Ives Galarcep (@SoccerByIves) November 2, 2018
"I knew yesterday if the game went to penalties where I was going to hit my penalty, but he's made a good save," Rooney said. "I didn't catch it as clean as I would have liked, but I think credit to the goalkeeper."
The Crew must now make a quick turnaround and prepare for a conference semifinal first leg against the New York Red Bulls, the best team in MLS during the regular season. The Crew will have just two days to recover for Sunday's opener at MAPFRE Stadium.
"We'll go back to Colombus and we'll play our game," Berhalter said. "We want to give Red Bull a difficult time, especially with the ball, and we're going to do that."
Wayne Rooney discusses D.C. United's elimination from the #MLSCupPlayoffs #DCUnited pic.twitter.com/toNBWiMfx1

— Ives Galarcep (@SoccerByIves) November 2, 2018
As for D.C. United, they saw a dream turnaround after Rooney's arrival, and the opening of their new stadium, lead to an improbable playoff berth.
It was a run that revived a fanbase, which was on full display on Thursday as the sold-out crowd urged their team on. D.C. fell short in the penalty shootout, but for Rooney, that setback did not erase what the team managed to accomplish in a season that transformed from hopeless to hopeful.
"I said to the players before any penalties were (taken) that, whatever happens, we can be proud of what we've achieved and hopefully it can carry on," Rooney said. "I'm proud of what this team has achieved because, really, we had no right to make the playoffs, and to do that we've brought belief back to the fans, brought belief back to the team and we have to build on that."