Cristiano Ronaldo
Be your own champion – defy the odds like Cristiano Ronaldo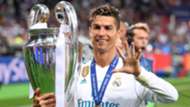 Real Madrid and Portugal star Cristiano Ronaldo has set the standard at the top of world football.
Yet his remarkable success story is not one of a superhuman preordained to reign supreme over mere mortals.
Clear MEN are reminding us that we, too, can achieve our goals and exceed our wildest dreams by applying the same principles that saw the five-time Ballon d'Or winner become immortal.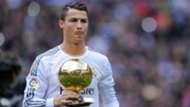 All we need to succeed is to be resolute when faced with obstacles and to refuse to be beaten, no matter the circumstance.
21-year-old He Yi Yi is testament to the passion and effort that, when combined and harnessed, can catapult us all to superstardom.
He was diagnosed with a form of bone cancer named osteosarcoma at the age of 12, which forced him to undergo an operation to amputate his left leg. 
Despite that, the Shanwei-born attacker has blossomed into something of a phenomenon in China and became a Paralympics champion in 2015.
His inspirational story took him all the way to London and West Ham's training ground last year, and also earned him the chance to meet the legendary former Italy coach Marcelo Lippi.
Clear MEN are rightfully labelling him a Champion.