Bayern München
Bayern legend Augenthaler: Hiring Heynckes was the right decision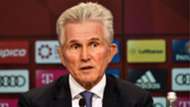 Former Bayern Munich defender Klaus Augenthaler believes the club made the right decision in bringing Jupp Heynckes back as manager.
After sacking Carlo Ancelotti,  Bayern brought Heynckes back last week to see out the rest of the campaign before a permanent boss is hired in the summer.
Lewandowski 2/9 to score v Freiburg
The 72-year-old has been out of management since retiring in 2013 allowing Pep Guardiola to take charge in Munich.
Despite the long absence, Augenthaler thinks Heynckes is the right man to take over the club for the rest of the 2017-18 campaign. 
"I think it was the right decision [to sign Heynckes]," Augenthaler told Goal . 
Augenthaler, who won seven Bundesliga titles with Bayern between 1976 and 1991, believes the club was likely speaking to other candidates before settling on Heynckes in a caretaker role. 
"I'm sure Bayern did not only say, 'Now we sign Jupp and things will become great again.' Probably they talked as well with other candidates.
"There have been two coaches with a running contract: (Liverpool manager) Jurgen Klopp and (Hoffenheim manager) Julian Nagelsmann. I think, Bayern spoke to them.
"The only coach, which would have been free, was (former Dortmund manager) Thomas Tuchel. The Bayern bosses thought about that as well, but probably it didn't fit. But that's just an assumption.
"And so Bayern signed Heynckes."
Despite Heynckes's absence from the game, Augenthaler said he wasn't totally surprised to see the former Bayern coach return when his old club came calling. 
"I know the job as the coach and you really should never say never," Augenthaler said. "Moreover Bayern is a matter of the heart for Jupp."