Ricardo Carvalho
Still brilliant at 38: Barcelona should sign classy Carvalho to solve defensive problems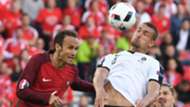 ---

COMMENT
---
There were plenty of jokes when casual observers noticed that Ricardo Carvalho was not only in the Portugal squad but likely to start at Euro 2016 despite being 38 years old – 20 years older than their youngest player, Renato Sanches. Indeed, the central defender is the oldest outfield player at the tournament but is putting many younger professionals to shame with his level of performance. No one's laughing now.
"I feel good," he told reporters in Paris after his second game in five days – a 0-0 draw with Austria in Paris. "Physically I feel fine." Carvalho has always been an elegant defender and an expert reader of the game. Even so, the consistency and assuredness of his displays in France have been breath-taking. He spent three years in international exile following a fall-out with former coach Paulo Bento but has returned the same classy competitor.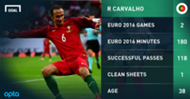 Portugal – despite their results so far – have largely played well. One mix-up between Vieirinha and Pepe cost them an equaliser against Iceland while Cristiano Ronaldo's wayward finishing was the difference between one point and three points against Austria. The fact that they've only got two points has obscured how well they've played and how much they've dominated their games. Key to all of this has been Carvalho.
His range of passing has been near perfect at 91 per cent while he has been on guard to quench counter attacks before they start with his smart positioning. He might not be quite as quick as he once was – but he is by no means slow. His experience and timing mean that he can take balls from attackers before they have even decided what to do with them. The one or two occasions he's had to go to ground to nick tackles, he's been inch-perfect.
For a team in charge of possession and playing mostly near the half-way line, Carvalho is still the perfect defender. It might sound crazy but it is for that reason that Barcelona should consider signing him this summer. He is out of contract after spending three seasons at Monaco and would suit the Spanish champions well, his Real Madrid connections notwithstanding.
He was asked about his future following the Austria game. "I still don't know," he said. "It depends on the offers I will have. After the Euros I will meet with the people at Monaco. They have been in touch; I don't know what they wanted to say. But in terms of playing, I will be available."
Barca are short of money and have only around €60 million available to restock their first-team squad. Selling clubs are aware of this and consequently, they are yet to make a signing this summer. Carvalho would come with no fee attached. First-choice defenders Marquinhos, Samuel Umtiti and Mauricio Lemos have still not arrived despite the Blaugrana's attempts to bring in a centre back. Even if one of those were to be signed, it would make sense for Carvalho to come in and act as a mentor for young stoppers not yet up to speed on the tricks of the trade.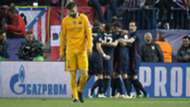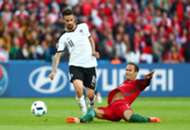 He could play in La Liga with his eyes closed and has acquired a lifetime's worth of experience of big Champions League matches too. He managed 37, 25 and 32 games in his three seasons in Monte Carlo so any doubts over his fitness should end there.
He can still defend – no doubt – but would be of immense benefit to a Barca side who keep possession as their default mode of play. He struggled in a Monaco team last season who, collectively, did not defend well but his strengths would be catered for in the Barcelona team. Like the central defenders at Barca, most of Carvalho's touches for Portugal these days come near the half way line as Fernando Santos's side probe for openings through the midfield. Only Pepe and Joao Moutinho have made more passes after two matches.
His age sounds like a major turn-off but the only part of his body that's showing 38 years is his hairline. "My head tells me to keep on playing and so far my body has let me," he said before the tournament "It's a battle I have with myself and I know it's a battle I'll lose with age. I'm lucky enough to play until as late as possible but a time will come when that's it."
He is known as a dedicated professional and trained all through last summer at Monaco instead of taking a holiday. He looks after himself well and it shows. There are no nightclubs for Carvalho, who prefers the quiet life and early nights with his family and swims to wind down.
Not only that but he's only got around 600 club matches under his belt. That is a relatively low count for a player of his age. Lionel Messi has played only around 40 matches fewer while Andres Iniesta has played about 40 matches more throughout his club career. He's got more in common – games wise – with elite players in their late 20s and early 30s than he does his own age group.
What's more, he's been there and done it. He's a Champions League winner, a multiple league title winner and a man with the mentality to fit in alongside the champions at Camp Nou. Nobody is saying that Carvalho at 38 is a medium-to-long-term solution in Barcelona's quest for a centre back but a dedicated, high-level professional like him could certainly help them while the search goes on.
Goal journalists are powered by the Samsung Galaxy S7 and Gear 360