KPL
Bandari FC target 40, 000 members in a massive fan drive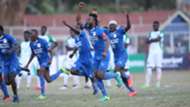 Bandari FC is targeting to register at least 40, 000 new fans as they position themselves as a 'modern club' among the elite in Kenyan football.
Information obtained by Goal shows an elaborate plan put in place by the club as they seek to tap on internet in a bid to lure more football lovers to the Coast. "It's evident that Bandari is growing as a club and what we want to do is grow with our fans.
"We want to embrace technology in this new move. We want to make Bandari a modern Club and full unparalleled love to its fans," said a source close to the club.
"We want to engage our fans, spend time with them and listen to them too. We want to start by giving them an online platform, where we shall introduce a weekly magazine and email as well as Whatsapp messages."
For one to be a member, he or she will have to register by filling a form on the club's website with members set to enjoy certain privileges like reduced gate price during home matches.
The exercise is expected to kick-off in the next three weeks. Bandari, who lost their first match since May on Saturday to AFC Leopards, are currently eighth in Kenyan Premier League table with 22 points.