Azammuddin Akil
Azamuddin racing to return for Selangor's cup clash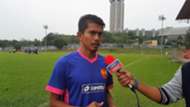 ---
BY        ZULHILMI ZAINAL       Follow on Twitter
---
Azamuddin Akil had an unlucky debut at new club Selangor. Not long after providing the assist to the Red Giant's first goal of the 2018 campaign, in their Klang Valley Derby against Kuala Lumpur on February 4, he had to be substituted off at halftime due to injury, in the match that eventually ended in a 2-0 win to Selangor.
He had to sit out their rounds two and three matches, and is looking to be sidelined for two more weeks to undergo recovery for his medial collateral ligament (MCL) injury. He will miss Selangor's home league match against his boyhood club Pahang this Saturday.
"I'm very disappointed, really. I had a very good pre-season, I worked hard to earn my spot, only to get injured in my very first match and be unable to help the team.
"Now I need to recover as soon as possible, and God willing I'll be fit again in one or two weeks' time," said the winger when met by Goal before training on Tuesday.
However, Azamuddin, who is also known as Alex by his teammates and fans, tries to look on the positive side of things; that this time around the injury will not sideline him as long as the previous occurrence, and that he looks to returning to action in Selangor's FA Cup tie.
Selangor will face third-tier side MOF FC on March 3, in the second round of the FA Cup.
"The ligament's recovery process is not precise and takes some time," said the 32-year old, "so I'm disappointed at missing the Pahang clash.
"But I want to recover quickly, if all goes well I want to return to action in our FA Cup match."