World Cup
As painful as it was to watch, World Cup draw gives Americans plenty to be excited about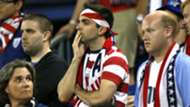 If you are an American soccer fan who found yourself getting a little sad and angry as Friday's World Cup draw began, you almost certainly weren't alone.
It was the first time in 32 years the U.S. national team wasn't part of a draw, longer than many U.S. fans have been alive, so there were probably more than a few Americans who caught themselves instinctively scanning for American faces at the draw, only to find that there were none.
That painful reality, which probably only grew more painful with the sight of stone-faced Vladimir Putin welcoming guests to the 2018 World Cup draw, ripped open the wounds suffered almost two months ago in Trinidad & Tobago, where the USMNT saw its World Cup qualifying hopes evaporate. But as Friday's draw went on and the groups started to take shape, it became a little easier to stop thinking like a heartbroken American, and start thinking like a fan of the world's game.
First you had Spain being drawn into the same group as Portugal, a tasty treat that was easily the group stage's most enticing pairing. Then you had Mexico being placed in a tricky group, with an even tricker knockout-round path. That was worth cracking an American smile. Then, before you knew it, the 32-team field was set, and it was filled with plenty of intriguing and potentially entertaining matchups.
Maybe that's when it sank in for many American fans, the reality that next summer could actually be fun to watch (and no, not because there might be a consolation tournament featuring the top teams that missed the World Cup). A few of you may still need some convincing, so here is a closer look at the World Cup draw, and why American soccer fans should still have plenty to root for next summer:
---
THE CAN'T-MISS MATCHUPS
---
The absence of several traditional world powers, like Italy, Chile and the Netherlands, meant fewer "Group of Death" options, but there are still several juicy pairings that both diehards and casual fans will be interested in. Leading the menu are:
Spain vs. Portugal. The Iberian neighbors have combined to win the past three European championships, and seeing Cristiano Ronaldo face many of his Real Madrid teammates will make this June 15 clash a must-see.
Germany vs. Mexico. El Tri will be the underdogs in this Confederations Cup rematch, and what American won't want to tune in to see the Germans knock off the U.S. national team's archrivals?
Belgium vs. England. Americans love the English Premier League, and this battle of European heavyweights will have plenty of star power, including Eden Hazard, Harry Kane and Romelu Lukaku, to name a few.
---
MEXICO'S CHALLENGING ROAD
---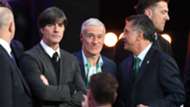 If you can't root for your favorite team, then why not root against your biggest rival? American fans have been mocked unmercifully by El Tri fans on social media since the USMNT crashed out of World Cup qualifying, and next summer will offer U.S. fans a chance for some sweet satisfaction if Mexico fails in its quest to advance past the Round of 16 for the first time.
Mexico's group draw is far from easy, with Germany looming as the Group F favorites and Sweden a tough opponent (and potentially tougher if Zlatan Ibrahimovic comes out of international retirement). South Korea is no pushover either, so that's three opportunities to see El Tri stumble on the world stage.
Of course, it should be noted that Mexico has a history of doing well in the group stages, with the Round of 16 being the perennially oversized hurdle for the Mexicans to clear. It won't be any easier this time around, with Brazil a very likely Round of 16 opponent if El Tri finish second in their Group.
---
SCOUTING OUT USMNT COACHING CANDIDATES
---
Though we don't even know who will be U.S. Soccer president yet (the election is in February), all signs point to U.S. Soccer waiting until the summer to hire a full-time USMNT coach. That would give whoever is running U.S. Soccer a chance to scout out and approach coaching candidates who become available after the World Cup.
Who might be worth watching?
Belgium manager Roberto Martinez is someone who should be on the list, and if he enjoys success leading a talented Belgian squad deep in the World Cup, he could become a very enticing candidate. Mexico's Juan Carlos Osorio is also on the radar. If Mexico has a good World Cup, Osorio won't be short on options, and it's a safe bet he won't coach Mexico after the World Cup, regardless of how El Tri fare. The former MLS coach has plenty of ties to the United States, and would be a very enticing option if he helps Mexico show well in Russia.
---
UNDERDOGS PRIMED FOR SUCCESS
---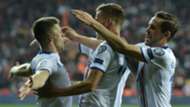 The group draw set up some very wide-open groups, and should give American fans plenty of options as they search for teams to adopt as their own during the tournament. Here are some of the underdogs with enticing group draws:
PERU. The South Americans were one of the true Cinderella stories in World Cup qualifying, having reached their first World Cup in 35 years. Peru is in a group with France, Denmark and Australia, and showed in qualifying that they can trouble the toughest of opponents.
ICELAND. The underdog story of the most recent Euros, Iceland finds itself in a stacked group with Argentina, Croatia and Nigeria. As much as that could lead to three losses, Iceland has already shown itself to be capable of upsets.
SOUTH KOREA. Older U.S. fans will remember the 2002 World Cup fondly, especially when South Korea helped the U.S. advance out of the group stage by beating Portugal. The Asian squad could make American fans happy once again if they can knock off Mexico. 
COSTA RICA. Sure, it may be asking a lot of American fans to root for the same team that beat the USMNT twice in qualifying, but if anything, a successful tournament by the Ticos would help paint the U.S. team's elimination in a better light. And yes, you could say the same for El Tri, but you have to draw the line somewhere.
---
THE POTENTIAL KNOCKOUT ROUND GEMS
---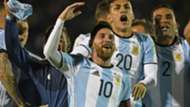 For those who have looked at the groups and felt like the group stage is lacking a little pizzazz, don't fret. The knockout rounds are shaping up to offer some delicious pairings. Here are some that could make for must-see TV:
BRAZIL vs. MEXICO. This potential Round of 16 showdown could break some ratings records in the U.S., not just with the many El Tri fans in America, but also with bitter American fans hoping for a Brazil blowout.
ENGLAND vs. COLOMBIA. Both teams teams are capable of winning their group, but if one manages a second-place finish, this could make for a very entertaining Round of 16 match featuring midfield wizards like James Rodriguez and Dele Alli.
SPAIN vs. ARGENTINA. A dream quarterfinal for the impartial observer, it would pit Lionel Messi against many of his FC Barcelona teammates on his quest to finally win a World Cup.
GERMANY vs. ENGLAND. Another reason why England's group draw isn't as cushy as some might thinking is this potential quarterfinal, which should give the Three Lions plenty of motivation to want to avoid finishing second in its group.
FRANCE vs. PORTUGAL. What better opponent for Les Bleus in the quarterfinals than the same Portugal side that eliminated them in the Euros.
GERMANY vs. ARGENTINA. We would have to wait until the semifinals for this rematch of the 2014 World Cup final, but it would be fitting if Messi had his chance at revenge.