Opinion
Arrogant Neymar needs to treat Cavani and his team-mates with respect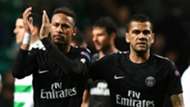 "It's my ball and you're not getting it," Dani Alves seemed to say as he pushed team-mate Edinson Cavani away from a free kick at the edge of the Lyon box before sliding it around his body to allow international team-mate Neymar to try his luck. 
The subsequent effort was disappointing. It crashed into the defensive wall before being cleared but the battleground had been set for more to come.
When Paris Saint-Germain were awarded a penalty shortly after taking the lead, this time it was Cavani's turn to triumph in an unseemly wrestle over possession with the world's most expensive player. From the spot, he was just as unsuccessful as his team-mate had been earlier in the half, albeit denied by a fine save from Lyon goalkeeper Anthony Lopes, who pushed his effort onto the bar.
These were scenes not even worthy of the amateur ranks. It was like watching school children squabble in a playground kickabout, in which the biggest, coolest, most popular kid invariably comes out on top in the long term.
That kid in the schoolyard of the Parc des Princes is undoubtedly Neymar, who has bewitched PSG fans the world over since arriving from Barcelona early in August. Over 120,000 shirts bearing his name have reportedly been sold and there is a threat of manufacturers Nike being unable to keep up with demand. A shortage until November is feared.
Even the unseemly sight of him effectively bullying Cavani will do little to dissuade PSG fans of his virtues - five goals in six games since arriving have seen to that, while the Uruguayan's propensity to miss big chances at big moments means that he has never claimed the adoration expected of a striker so prolific and industrious. 
Cavani has been the established penalty-taker for Paris since the departure of Zlatan Ibrahimovic. He had taken all three of PSG's previous spot-kicks, including one against Celtic in the Champions League five days earlier. He had succeeded with them all.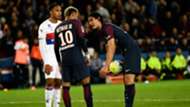 It was not Neymar's place to take it upon himself to decide that a change of taker was required, particularly amid the glare of Ligue 1's showcase weekend match – a fixture that was far from decided at that moment.
Curiously, even head coach Unai Emery seems cowed by the club's marquee summer signing.
"It takes a gentleman's agreement on the pitch to hit the penalties," he said post-match, doing his best to wash his hands of the issue.  
But despite various actors claiming there is no cause for alarm - centre-back Presnel Kimpembe said "there is no war" between the two players - it is an issue that refuses to go away.
L'Equipe reported on Tuesday that there is a massive rift between the players, alleging that they had to be pulled apart in the dressing room as they tried to fight.
Neymar certainly offered little praise to Cavani after the match on social media, preferring to post a picture of himself celebrating with Kylian Mbappe. It was an image that the young Frenchman, who signed for PSG off the back of their capture of the Brazilian, replicated. The third member of the attacking trio was nowhere to be seen. 
It is the first major flashpoint of a campaign that has otherwise been perfect for the Parisians. They have won all of their eight competitive fixtures and have looked immensely powerful in doing so, but such a key rift threatens to undermine their campaign.
When Neymar signed for the club, he was promised it would become 'his' team. The trouble now, it seems, is that he is starting to believe it. His actions on Sunday were immensely disrespectful towards Cavani, a player who has more than earned his dues at Parc des Princes over his three hard-working years. 
It was an act of arrogance and while PSG can likely afford it in their quest to regain the Ligue 1 title, if they are to achieve their real mission of becoming Champions League winners, they require a team all pulling in the same direction. Such conduct will not do, especially from the man the team will rally around at the toughest moments.
"The team is more important than any individual," Dani Alves told SporTV after the game. As a protagonist in Sunday's embarrassing incidents, he must take note as much as every other member of the squad - Neymar most of all.