Xabi Alonso
Another star to have slipped Wenger's net at Arsenal - Alonso reveals Gunners interest while at Liverpool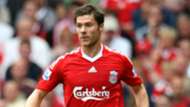 Xabi Alonso can be added to the list of names Arsene Wenger came close to signing at Arsenal, but ultimately missed out on.
The Gunners boss has often spoken down the years of how he was in the market for a number of top talents, only to see them head elsewhere or for interest to be shelved.
Wenger: Suarez wanted to join Arsenal
It has now been revealed that the Frenchman was eager to add ball-playing midfielder Alonso to his ranks while the Spaniard was at Liverpool.
With Reds looking to move out a man who would go on to win 2010 World Cup and 2012 European Championship honours with Spain, Arsenal joined the chase.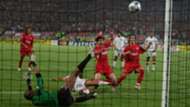 They were, however, reluctant to meet the asking price of a Premier League rival and Alonso eventually ended up signing for La Liga giants Real Madrid in the summer of 2009.
Speaking to the Liverpool Echo about his time at Anfield, Alonso said: "I was really close to Juventus and I was close to Arsenal.
Arsenal and Bayern fined by UEFA
"But, it was just £3m. Liverpool were asking £18m and both offered £15m – so that's why it didn't happen."
Alonso formed part of Liverpool's remarkable Champions League triumph in 2005 during his time in England, before going on to enjoy further domestic and European success in Madrid.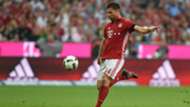 League titles have also been snapped up in Germany with Bayern Munich, but the 35-year-old has announced that he is to slip into retirement at the end of the current campaign.
Alonso added: "I have been lucky enough to be at great clubs from my hometown club to Liverpool to Real Madrid to Bayern Munich.
Pep: Alonso one of the best ever
"For me, I've played for the best team in England, the best team in Spain and the best team in Germany. That's what I wanted to have - a nice career. I've played with great players and worked with great managers, I've learned a lot from all of them.
"I've been lucky but I have earned that luck. I've been in the right place at the right moment a few times. I would never have dreamed to have had such a nice career as this. I like football and this is like a nice football journey."