South Africa
Andre Arendse gives the current crop of Bafana Bafana players a vote of confidence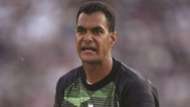 Bafana Bafana legend Andre Arendse believes that the current crop of South Africa internationals has the ability to replicate the success of the nation's most successful generation.
The class of 1996 will forever be remembered for their exploits which saw them conquer Africa. Bafana Bafana have since failed on several attempts over the past two decades to assert themselves as a powerhouse on the continent.
However, one player, who currently forms part of the technical team which aims to guide Bafana back to the African throne, is optimistic that things could soon change.
Bafana most recently recorded their biggest ever margin of victory again Seychelles in a 6-0 thumping which has now put them firmly in contention for a place in next year's 2019 Africa Cup of Nations.
Arendse who was on the bench during Bafana's most recent success and a player from Bafana's golden generation believes that while it may take time to see success, there is certainly no shortage of talent and skill.
"The time that it takes to get there (class of 1996) is up to the players," Arendse told EWN.
"We had a process back in 1996 that started as soon as we got into international football again, that was around 1992. So, the process is not overnight, it does take a bit of time," he added.
Bafana recently brought on board another legend in Shaun Bartlett to the Bafana fold. The former striker is the latest to join Stuart Baxter's technical as he has previously worked with Quinton Fortune and Helman Mkhalele.
Nonetheless, Arendse is counting on South Africa's former stars to play a role in harvesting the newest talent South African football has to offer.
"The skill and ability, it's all there, we have it, we have it in abundance in South African football. So it's for people like ourselves (legends) to take that talent and skill and nurture it and work with it and just guide it, aside from coaching the game in our various departments."