Rangers
Hyndman gets Rangers loan off to flying start and more from Americans abroad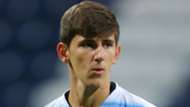 Emerson Hyndman's loan at Rangers got off to a flying start as he delivered the game-winning assist for his side's 2-1 Scottish Cup win over Motherwell.
Hyndman, making his competitive debut for Rangers after joining on loan from AFC Bournemouth, was in the right place at the right time as he picked off a poorly delivered pass and then sent Kenny Miller through on goal. The striker delivered the finish to give Rangers the win.
"It was two quality finishes, a great ball in from (Martyn Waghorn) and then the composure and the poise from Kenny," Rangers boss Mark Warburton said after the match. "The second is a great ball in from Emerson and he finishes it with aplomb so it is no coincidence. It is the way he [Miller] works on the training field, the way he eats. It is all credit to him and the senior players."
Hyndman took to twitter to celebrate the performance and win.
Good win today, enjoyed my debut. Class from Kenny to put away those two late goals.

— Emerson Hyndman (@emersonhyndman) January 21, 2017
The 20-year-old Texan moved on from Fulham to Bournemouth in the summer, but a preseason injury put him behind the curve. After only a couple of league cup appearances this season, Hyndman headed off to Rangers on loan, hoping to prove himself worthy of a greater role when he returns to the Premier League club.
It was one performance, and it was a Cup game, but that's the type of impact that a player needs to make if he's going to turn heads.
---
DEANDRE YEDLIN MAKES EFL TEAM OF THE WEEK
---
DeAndre Yedline had quite a day for himself on Saturday.
Newcastle eased to a 4-0 victory over Rotherham, but it could have been a lot harder for the Magpies had it not been for the fullback.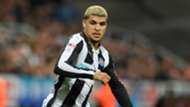 With the game scoreless, Yedlin was able to scramble back and make a tackle on an attacker after a misplay by Newcastle keeper Karl Darlow. Though the ball wasn't cleared, that delay allowed Newcastle's backline to scramble into place and Darlow himself to find redemption with a great save to keep Rotherham off the board.
Yedlin then got involved in the attack, notching a pair of assists in the victory.
The performance was enough to secure Yedlin a place in the English Football League team of the week.
---
ARRIOLA AND OROZCO KEY FOR XOLOS
---
Hyndman wasn't the only American to be involved in a winner Saturday. Paul Arriola picked the helper in Tijuana's 1-0 win over Chivas Guadalajara. His cross into the area found Milton Caraglio for the header and the win.
In addition to Arriola, two other Americans started for Xolos - Joe Corona and Michael Orozco, with the latter having a clearance off the line to help Tijuana get the three points.
---
PULISIC CONTINUES TO FEATURE FOR DORTMUND, SIGNS NEW DEAL
---
Christian Pulisic has seen plenty of action this season for Dortmund. While injuries have certainly made it easier to crack the XI for Thomas Tuchel's side, Pulisic started Dortmund's return to Bundesliga action against Werder Bremen and went the full 90, with Ousmane Dembele and Mario Gotze beginning the contest on the bench.
It was a quiet game for Pulisic, creating just a single chance in Dortmund's 2-1 win, but the teenager has other reasons the celebrate, after agreeing to a new contract with the club which ties him up through 2020. 
---
BUNDESLIGA INJURY UPDATES
---
John Brooks made his way back from a thigh injury for Hertha Berlin, starting his side's start of the Bundesliga second half and going the full 90 against Javier Hernandez and Bayer Leverkusen. While Brooks and his teammates did keep Chicharito off the board, it wasn't enough as Leverkusen took care of Hertha, 3-1.
But though Brooks made his way back, Fabian Johnson (Achilles) was unable to for Borussia Monchengladbach, not making the bench in his side's scoreless draw with Darmstadt.
Likewise, Aron Johannsson (calf) was unable to get to fitness in time for Bremen's loss to Dortmund.