FA Cup
Amazon get their money's worth as City's quadruple hopes dramatically die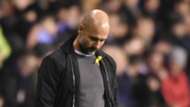 Given Manchester City are going into the entertainment business with their Amazon documentary series, you could easily imagine the opening scenes of the episode simply known as "Wigan".
Claudio Bravo, up for a corner, wins a header in the box. Bernardo Silva, one of the most intricate players in the most intricate team, hoists the ball into the area. Sergio Aguero clashes with fans on the pitch. Fade to black. The caption reads: "90 minutes earlier."
Nobody would switch off at that point.
City rocked up in Wigan for what appeared to be a formality. With the FA Cup quarter-final draw already made, the attention of some supporters had already turned towards a home tie with Southampton next month, if not another trip to Wembley for an April semi-final.
Yes, Wigan had pulled off one of the most famous FA Cup upsets of all time to beat City in the 2013 final, but nobody expected them to do it again.
City, back in 2013, were in open revolt. The squad that had won the title 12 months previously had, by all accounts, decided they wanted Roberto Mancini out, and their performance on the day suggested that was more important than winning the cup. The fans chanted "you can stick your Pellegrini up your arse", after news filtered through that the Chilean would be replacing Mancini whatever happened.
Hardly the ideal circumstances for a cup final, even if the opposition were on the brink of relegation.
Yet you could hardly have imagined a happier camp than the City side that arrived at the DW Stadium on Monday. Up until Fabian Delph's red card, anyway.
City were not at their best in the first half but they probed and created enough openings to suggest another victory was in the post. Certainly, when Christian Walton produced a super save to deny Aguero just before half-time, it seemed as if City were getting there.
But all went wrong from the resulting corner. Delph, around 30 yards out and the closest outfield player to City's goal, lunged in to make sure Max Power couldn't nip around him and break. The left-back was overzealous, however, and while his robust challenge was not the kind of malicious foul which City have complained about recently, it had all the ingredients for a red card: powerful, clumsy, both feet, studs up.
Referee Anthony Taylor pulled the yellow card out and even went to write Delph's name on it, but soon switched to a red. Cue pandemonium. Pep Guardiola and his bench went ballistic. Aguero rowed with Wigan boss Paul Cook, having to be dragged away by Guardiola and his team-mates.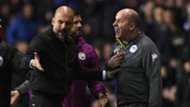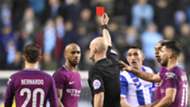 The half-time whistle did nothing to alleviate the situation: BBC cameras captured footage of Guardiola and Cook arguing in the tunnel. They also appeared to show the Catalan racing towards the officials as they made their way off the pitch, but the pictures were prematurely cut. Hopefully Amazon caught the full scene.
Despite the red card, the second half took the same shape as the first, though Kyle Walker came on for Leroy Sane, who had disappointed. The biggest problem for City, far from any concerns about Wigan looking to exploit their numerical advantage, was that they did not have much of an outlet on the left when they looked to break.
Still, it seemed like one through ball and one cool finish would do it. When Kevin De Bruyne came on it felt as if the breakthrough was coming. With Aguero's son in the crowd celebrating his birthday, you wouldn't have been surprised if Aguero senior bagged the winner.
Walker looked to take responsibility at right-back in the way that Danilo rarely does, bursting forward and trying to make things happen. But the England man, faster than the rest of his defensive colleagues by quite a distance, was the man to slip up. He misjudged, letting the ball and Will Grigg run in behind him, and even he could not catch up. Grigg, the subject of the catchiest football chant in history, fired past Bravo.
City still had 11 minutes to earn a replay, or better, but could not pick their way through. For every presentable shooting opportunity they created there were two Wigan players in the way to block it. De Bruyne worked his way to the byline but could not pick out a team-mate, and there were plenty of them waiting.
Never more so than when City won two late corners. Bravo has played less like a goalkeeper than an outfielder hastily handed gloves so far in his time in England, but you would not have him down as much of a presence in the air. Still, there he was, up for a corner, winning a header as City tried everything.
Wigan, roared on by a desperate and delighted crowd, did everything to get the ball as far from their goal as possible. Bernardo scampered after it, but the time for picking precise targets was long gone. He looked up and launched it to the back post. Guardiola's principles, for those final moments, were out of the window.
That said, it's a good job City have Guardiola as their manager, and not the director of next summer's Amazon Prime series.  
Speaking after the match, going against all available evidence, he accepted Delph deserved to be sent off: "For me it's an unnecessary action and the referee decided what he decided. I'm not here to judge, it can be a red card."
He would not be drawn on the rest, either. "Guys, if you want to ask about football, ask about football, nothing happened in the tunnel."
This was, though, an explosive night of both football and the controversial stuff that often goes with it. City's quadruple hopes are over, but they go to Wembley on Sunday for the next episode.