MLS
Altidore to miss first leg of Eastern Conference final after suspension upheld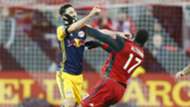 Toronto FC had hoped that it would be able to have Jozy Altidore in the lineup for the first leg of the Eastern Conference final, but now the club knows for certain it will have to survive without him.
The team has announced its appeal of Altidore's red card picked up during a halftime altercation against the New York Red Bulls has been denied, meaning he will miss the opening leg against the Columbus Crew on Tuesday.
The striker reportedly was involved in a fight in the tunnel with fellow U.S. international Sacha Kljestan, which saw both players issued red cards. Neither player took the field for the second half of the Red Bulls' 1-0 win, though Toronto won the two-legged tie 2-2 on away goals.
Toronto had hoped video evidence would be enough to get Altidore's red card rescinded, but coach Greg Vanney confirmed to media Wednesday it was not.
"Jozy's suspension has been upheld," Vanney said. "The referees had given him a red card, so the burden of proof was on us to prove that it wasn't. We weren't able to do that with video we provided because there were still some gaps in the video."
That means Toronto will be without both Altidore and Sebastian Giovinco for the opening leg in Columbus, as the Italian star will miss out due to yellow card accumulation.
The MLS disciplinary committee will be reviewing the halftime incident in greater detail later this week, meaning further punishments could still be handed out.