Transfers
Alexis a £140 million risk worth taking for Arsenal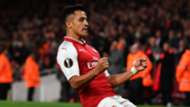 Alexis Sanchez showed in one flash of brilliance on Thursday night why Arsene Wenger decided to take an £140million hit by keeping the Chilean star this summer.
Wenger recently admitted that Arsenal have missed out on a fee of almost £70million after his move to Manchester City was blocked due to the Gunners failing to land Monaco's Thomas Lemar as a replacement.
Arsenal 7/1 to win Europa League
The manager will have to spend a similar amount if he wants to find a like-for-like player next summer and, despite Sanchez's desire of joining Manchester City, his goal against Koln was an example of why the Chilean remains so important to the Gunners' cause.
"You take a Sanchez into the final year of his contract, you sacrifice £60-£70million income and at the end of the season you will have to buy somebody for that amount of money," Wenger told beIN Sports.
Thursday's delayed kick-off against the German side encapsulated everything Arsenal supporters have come to love and hate about their star man. He flung his arms up in the air when a pass was misplaced, showed tireless running when chasing opposition defenders and scored an outrageous goal after cutting inside and curling past goalkeeper Timo Horn.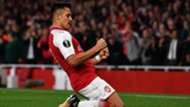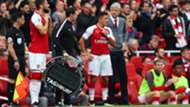 The biggest plus point of the game was how Sanchez impressively linked up with summer signing Sead Kolasinac down the left hand side. Arsenal's bulky German wing back replaced Rob Holding at half time and immediately showed the kind of attacking intent and end product which had previously been lacking down the flanks.
"Kolasinac gave us a lot going forward, but he also pushed Sanchez more forward. Sanchez was very deep in the first half," Wenger said after the game.
"'In the second half, Sanchez became alive. He is still fighting to come back to his best physically, but Sanchez is Sanchez."
Wenger has been forced to hit back at claims in Sanchez's native Chile that the 28-year-old is out of shape following their recent World Cup qualifying defeats.
Sanchez was hit hard by the dismal displays over the international break and received the brunt of criticism from local journalists, who believe that he was also mentally affected by the breakdown of his transfer to City.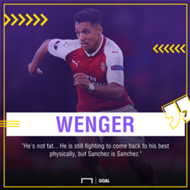 "No, he's not fat," said Wenger. "His fat percentage is under 10. You know how it is: when you don't win, people find any problem for you."
"He told me he is focused on the Premier League and on the Europa League.

"On top of that, Chile had a bad experience as well. But he came back full of desire and ready to play."
Arsenal's away record at last season's top six looks like this: LDLDLDDDLLLLL. The mental hurdle which continues to affect Wenger's side shows no sign of coming to a halt, especially at place like Stamford Bridge, where the Gunners have generally looked inferior to their hosts. Last season's goal from Eden Hazard, in which he beat the Arsenal team, was indicative of a side who crumble far too easily in big games.
Sanchez wants to leave Arsenal for a reason and while a summer move away from north London when his contract expires remains on the cards, the goals, assists and moments of magic could make the £140m hit worth it come the end of the season.