Liverpool
Oxlade-Chamberlain can take centre stage for Liverpool and show Henry his strengths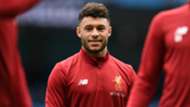 As a kid who ceded possession by being bumped off the ball and had to descend from his age group due to his inferior physicality, Alex Oxlade-Chamberlain sometimes doubted his father Mark's unswerving faith in his technical abilities.
"He believed that when I grew and caught up with everyone else, I'd be at a better standard than the boys who at the time were in front of me in other people's eyes," the England international told Complex in April.
"It was hard for me to see because I was the one who was getting pushed off the ball, and being put down an age group to play. That was difficult, and I even doubted him. But when I came out the other side of that and he was right."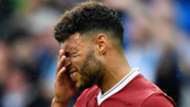 It was two years ago this month that Arsene Wenger urged Oxlade-Chamberlain to find "the right balance of being not happy with what you do without harming the confidence" after a conversation with Mark.
"I see Alex train every day. He is dedicated, focused and hungry," the Arsenal boss detailed in September 2015.
"But his dad said he lacks a bit of self-belief and I can confirm that because he is very critical of himself.
"That's positive and a sign of top-level sportsmen, but you have to find the right balance of being not happy with what you do without harming the confidence."
As Oxlade-Chamberlain prepares for his first start as a Liverpool player in the League Cup against Leicester City on Tuesday night following the "most difficult decision" of swapping the Emirates for Anfield in order to further develop, Jurgen Klopp is enthused by the task of helping him elevate his game and credence.
The German hasn't noted any issues with the 24-year-old's confidence and feels this restart in his career will offer him the platform to excel at his strengths, which Thierry Henry will hopefully soon be able to name.
"I think it would be strange if I have to say something about a player after two-and-a-half weeks when Arsene Wenger said this after working together with him for six or seven years," Klopp said at Melwood on Monday.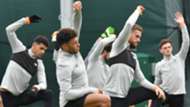 "But a new start is very often kind of a relief. You are in a situation in your old club — I don't say this for Alex especially, just in general it is like this — you are in a specific position and accept it and then at some point it's difficult to make the next step.
"It's how it is. So I thought it made complete sense for Alex to change the club and especially for him to come here.
"So far I can't see that [he struggles to believe in himself]. He has settled in perfectly, but he knew all the England players and a few others. He's really nice lad so it's easy for him to settle in the team, he takes the situation like it is.
"He knows he played all the games for Arsenal from the beginning and now he comes here and is sitting on the bench and it looks like 'oh it was not the best decision', but it's about the long term.
"We can already use him and that's good, but we also want to prepare him — that's all. It's all good."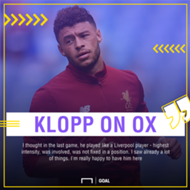 Oxlade-Chamberlain has played an hour of football for Liverpool since his £35 million deadline day move, coming off the bench in the 5-0 defeat at Manchester City, in the final minutes of the 2-2 Champions League draw with Sevilla and in Saturday's 1-1 stalemate with Burnley.
In fact, the last time he was victorious was against Leicester in Arsenal's opening fixture of the season and he will want to be central to his new club ousting Craig Shakespeare's side following a difficult, winless week.
"I thought in the last game, he played like a Liverpool player — highest intensity, was involved, was not fixed in a position," Klopp said.
"I saw already a lot of things. At the end, he didn't hit a goal so maybe people will say that's a proper Liverpool player — doing everything right and then at the end he doesn't score," he joked before adding: "I'm really happy to have him here. I hope he's also happy to be here."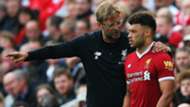 The Reds boss has long been an admirer of Oxlade-Chamberlain, first watching him live while at the helm of Borussia Dortmund in September 2014.
As a substitute for Arsenal in a Champions League test against the Bundesliga's yellow-and-black dazzlers, his "pace, skills and attitude" were appreciated by Klopp, who "didn't need to think twice" about signing him this summer.
The 50-year-old was a crucial factor in the former Southampton graduate opting to hit eject from his comfort zone after six years in north London.
And the manager believes his decision to leave something familiar for a fresh tactical education will automatically aid his advancement.
"It's just because we play different to Arsenal," Klopp explained when asked how Oxlade-Chamberlain's development could be furthered under his charge.
"That doesn't mean better or worse, it's just means different. At least being involved in a different football [style] is already development because it helps you react in different moments, so that's not always doing the same.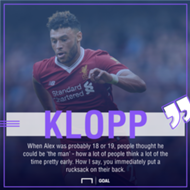 "Arsenal changed a lot of since Alex is there. I'm sure they didn't always play with three in the back, wing-backs and stuff like this. I played against Arsenal when Alex was centre-mid, I played against Arsenal when he was on the wing, I played Arsenal when he was wing-back. He played different positions and that all is highest quality.
"If you can play in the Premier League in different positions, that says a lot of you. It's a judgement from outside that you don't develop. But playing different positions is development.
"When Alex was probably 18 or 19, people thought he could be 'the man' — how a lot of people think a lot of the time pretty early. How I say, you immediately put a rucksack on their back.
"That makes development not easier, so hide them as long as makes sense. That's the plan. But he's now in the perfect age and is still able to make big steps."
Oxlade-Chamberlain will be plotting sizeable strides at the King Power Stadium, where he'll finally get a chance to tattoo himself on proceedings from the off as a Liverpool player.