Manchester City link birthed successful Premier Cool Turf Wars idea - Alex Goma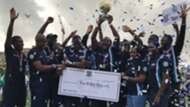 Premier Cool's partnership with English Premier League Champions Manchester City aided the outfit's decision to 'explore football', according to Alex Goma, Managing Director, PZ Cussons.
The maiden edition of Premier Cool Turf Wars saw Fast Five emerge champion, and Goma reveals the thought process behind engaging consumers via the most popular sport in the world, football.
"I think it's been a long way starting from when we considered the idea and working with our various partners to actually come up with a concept like this [Premier Cool Turf Wars] and it's the first time we're doing this," Goma told Goal .
"We already have a partnership, regarding football, with Manchester City. And we thought about the best way for us to explore football as a platform.
"Thus, we created this platform for the consumers of the brand, who are working class, to have a fun-filled day where they can actually play against each other and enjoy all the attributes of the brand [PZ Cussons].
"And I think getting consumers, who also enjoy soccer since Nigeria is a country with the passion for soccer, is something beautiful for the brand."
The event took place in Lagos, and Goma hinted at plans to spread the competition to other cities in the country, and possibly use it to unearth footballing talents for the country.
"The fact is that we're going all around the cities [in the country], first of all from Lagos. The only criterion was for people to be working. So, it's encouraging for everyone to say they can be part of the game.
"We're hoping that even those who don't aspire to be professional can look at it [and say], I don't have to give up. I can actually play because some of the guys here could have been successful if they chose to follow a professional career because of some fantastic skills being displayed here.
"The question of how far we're going to take this is going to happen after the review of this particular tournament and we'll see how we're going to exploit [so as to] see if it can be an avenue for us to raise some good talents for the country."
The moment that we came here for. That 3 million Naira smile. Again, congratulations #FastFiveFC . #PremierCoolTurfWars pic.twitter.com/8mQFBLo00c

— Premier Cool Nigeria (@PremierCoolNG) September 1, 2018
An electrifying final capped off what was a successful tourney, with Fast Five coming from four-goal behind against Photo Studio to lift Premier Cool Turf Wars trophy.
Hunters FC were placed third after defeating Juniorates FC in the losers' final. And Goma's message to the other teams is to "keep trying."
He adds: "Just like Winston Churchill said, 'Success is not final; failure is not final.' If you try and you don't get it, you try again!"