Bundesliga
'Alex Ferguson wanted Lahm, that says it all' - Bayern coach hails retiring defender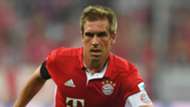 Bayern Munich assistant coach Hermann Gerland has paid tribute to Philipp Lahm ahead of the defender's final game, arguing that being wanted by Manchester United shows how good he was.
Lahm is set to bring the curtain down on his glittering career on Saturday when Bayern host Freiburg in the last game of the Bundesliga season and a host of team-mates and coaches have been paying tribute to the long-serving club captain.
Van der Wiel scammed out of $4.5m
Gerland first encountered Lahm during his time as manager of the Bayern reserve team and he played a role in helping the full-back move on loan to Stuttgart early in his career.
"I still have strong memories of his first match for my team, when our reserves faced Burghausen in the Regionalliga Sud. We won 2-1, and Philipp played, well, as he always does: he turned in a flawless display," Gerland said in an interview with fcbayern.com.
Lahm flourished under the tutelage of Felix Magath at Stuttgart between 2003 and 2005, playing regularly in the Bundesliga and featuring in the Champions League against Manchester United, where he earned an admirer in the form of Alex Ferguson.
However, Gerland recalls that it was not always easy to convince others of the defender's ability.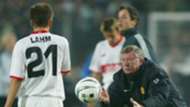 "As reserve coach I enjoyed the two years with him, and I'd have liked to enjoy him longer," said the Bayern assistant. "But it would have been disastrous not to let him play in the Bundesliga, it just wasn't possible.
"Arranging that wasn't easy. Renowned coaches declined until Felix Magath accepted.
"Two years ago I ran across a scout working for a Bundesliga club. I'd recommended Philipp to him back then. We talked, and he told me: 'I've watched Philipp Lahm and seen the same things you've seen, that he's an outstanding player. But my people didn't believe me.' That's a nice little story."
Gerland continued: "Philipp was able to play in the Champions League [by joining Stuttgart]. 
"After only three months he was the best man on the pitch against Manchester United, so Alex Ferguson wanted to sign him. That says it all."
Lahm will bring his playing career to a conclusion having won eight Bundesliga titles, the Champions League and the World Cup.