Arabian Gulf League
Al Jazira's latest Brazilian signing could be suspended from football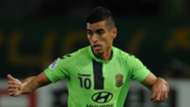 Korean reports suggested that the Korean Football Association could request from its Emirati counterpart to suspend Al Jazira's latest signing, Leonardo, from football until the investigations that could scrutinize Leonardo's former employers, Jeonbuk Motors for game rigging, in which Leonardo might have been part.
The independent committee that issues decisions of participation in AFC games decided that the ACL 2016 Champions, Jeonbuk Motors is not eligible to take part in the AFC Champions League 2017 competitions because of game rigging allegations that might have affected the 2013-2014 K-League results.
The committee considered the Korean club's involvement in such acts an infringement of rule 8.11 of participation in AFC competitions 2017-2020, and considered that Jeonbuk Motors isn't eligible for participation in AFC Champions League 2017.