Nigeria v Uganda
Ahmed Musa: Uganda friendly kick-starts 'serious' 2019 Afcon preparation for Nigeria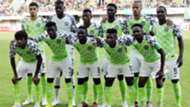 Uganda friendly is the start of 'serious' 2019 African Cup of Nations preparation for Nigeria, according to forward Ahmed Musa.
After missing out on the two previous editions, the Super Eagles returned to the continental showpiece, with Saturday's 1-1 draw against South Africa confirming their spot in Cameroon next year.
They face Sebastien Desabre's men who are also through to the Afcon finals - for the second consecutive time - and, impressively, are yet to concede a goal from five qualifying matches.
Musa believes the 'tough' Cranes, who defeated Nigeria the last time out in Uyo, will provide them with the sort of competitiveness needed as they aim to avoid a repeat of March 2015.
"We know that after our ticket to the Afcon the next stage is for us to start serious preparations for the competition proper in Cameroon and we are using the friendly match with Uganda to commence the build-up to the competition," Musa told the media.
"We know that the Ugandans are a tough side and the fact that they beat us the last time we played in another friendly match has made it imperative for us to ensure that we do not suffer another defeat and the preparations on a winning note. We the players have spoken to ourselves and we are battle-ready to do Nigerians proud.
"The game with South Africa has been confined to history and our fans will now be eager to know what we can do in Cameroon next year. We do not want to disappoint them. It won't be a good experience to lose to the same team that beat us some years ago. We are determined to match them from strength to strength to ensure that we are victorious."
The Eagles qualified for the 2019 Afcon with 10 points from five games to remain top in Group E while the Cranes have also sailed to Cameroon 2019 with 13 points from five games in Group L.