Ghana
Former Black Stars striker Agyemang desperate to return to action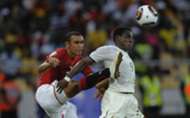 Opoku Agyemang is fondly remembered in Ghana for his participation at the 2010 Africa Cup of Nations in Angola, as the Black Stars reached the final and narrowly lost to Egypt.
Agyemang sustained a career-threatening knee injury one month after the tournament while playing for club side Al Sadd SC in the Asian Champions League.
Nine years have passed by with the striker still on the sidelines, yearning for football action on the pitch.
"I have been out for nine years. I have always felt confident that I will recover fully and play again. I'm still on rehabilitation full of hope that I return soon," he told Starr FM.
"Growing up, I had dreams of playing top level football. I will be 30 in June (2019) and I have given up on that because the agents shy away, saying age is not on my side, coupled with the fact that I have been out for over eight years.
"I will not give up on playing again until I finally feel there is no chance. Only then I will announce the end of my playing career," he said.
Agyemang also played for Ghana's U17 team and won the 2009 Fifa U20 World Cup with the Black Satellites in Egypt.
 
"I love to play football. It is my source of happiness and I give it my all."
Ghana will camp in Doha, Qatar for a month before travelling to Egypt for the 2019 Africa Cup of Nations which kicks off on June 21.