India
AFC women's Asian Cup 2018 Qualifiers: India finish off with a win over Hong Kong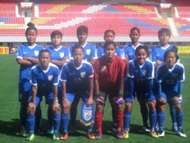 The Indian women's senior national team won their last match of the 2018 AFC Women's Asia Cup qualifiers against Hong Kong 2-0 at the Kim II Sung Stadium in Pyongyang on Tuesday. 
The Indian eves had already crashed out of their group following heavy defeats at the hands of South Korea, North Korea and Uzbekistan. But they ensured they ended the campaign on the right note by consigning Hong Kong to a defeat. 
Indian Women dominated the tie from start to finish and created plenty of chances while also enjoying lots of possession. But the Blue Tigresses failed to open the scoring in the first half and had to wait until the 68th minute when Ratanbala was brought down inside the box, allowing Sasmita Malik to convert the penalty. 
India
's lead by finishing off Indumathi's attempted shot which fell into her stride. Despite fashioning several more chances,
India
could not capitalise as the match ended 2-0.