AFC U16 Championship
AFC U-16: India U-16 coach Bibiano Fernandes focussed on keeping a clean sheet against South Korea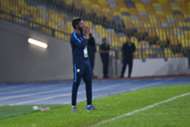 India U-16 team have qualified for the knock-out stage of the ongoing AFC U-16 Championship by virtue of being the group runners-up behind leaders Indonesia. In the quarter-finals, they will lock horns against Asian giants South Korea who have put a stellar display in the round robin stage of the competition.
The Red Devils have pumped in 12 goals in three matches and are yet to concede. 
India U-16 head coach Bibiano Fernandes mentioned that Korea are a quality side and that he is focussed on ensuring that his side do not leak in goals.
"Korea has got a good team. They have better players technically in every position. Yes, we have done a good job so far and we have been playing well. I am trying to recover my boys first and we hope to keep a clean sheet in the quarter-final as well."
"It has been great for the Indian team to qualify for the knock-out stage after 16 years. We have worked really hard for the last few months along with the Indian administration. We know the challenges that lie before us while we take on South Korea. This is what we have been preparing for. We are looking forward to the match and we will give our best," he added. 
The Goan coach spoke highly of India's grassroots development programme and the improvement in coach education in the country. 
"India has been doing a good job for the last 10 years. We have been working hard to develop our grassroots programme. The change in coaching education has also helped Indian football to develop. I hope to continue our progress in the future and be prepared to compete at the world stage," said Fernandes. 
The match between South Korea and India is scheduled on October 1st, 2018 at 1815 IST.