KPL
AFC Leopards chairman Dan Mule: Gor Mahia should pay for Kasarani chaos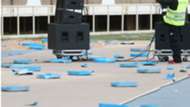 AFC Leopards chairman Dan Mule says his team will not be bullied into paying for mistakes that they did not commit.
Ingwe 'fans' were accused of vandalizing part of Kasarani Stadium in the 2-0 defeat against their rivals Gor Mahia during the derby on Saturday. Mule now says it was the responsibility of the home team to provide enough security and that the club should not be held solely responsible for that unfortunate incident.
"First, I want to make it very clear that the club does not support acts of hooliganism and especially what happened on Saturday. We do not advocate for any unsporting behavior that might ruin the beautiful game.
"Secondly, we are not to blame for that incident, the hooligans, who were responsible should be arrested and judged for their actions. Maybe they are just hired goons, who were brought in to spoil the game. The home team could have provided enough security and ensure the police and stewards were present.
"Just because a section of the goons was wearing our jerseys it does not mean they are our fans," Mule told Goal.
The Sports Stadia Management Board has fined Leopards Sh3.5million and banned the team from using the facility.