AFC Cup
AFC Cup: Bengaluru FC's Albert Roca - We were a little lucky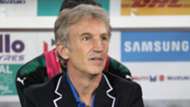 Bengaluru FC registered a 3-2 away win against Maldives' TC Sports Club on Tuesday evening in their AFC Cup play-off's first leg. The Blues took a 2-0 lead through Thongkhosiem Haokip and Erik Paartalu before conceding twice within the space of three minutes.
However, Haokip came to their rescue again as he scored the winner in the 78th minute to ensure that Bengaluru pick full points from the tie.
Coach Albert Roca admitted that his side were lucky to an extent to pick three points. He also mentioned that the Maldivian side are an aggressive unit.
"My impression is that, we were little, I think lucky. Because you know, the last 20 minutes was a complete disaster physically. I think the conditions of the weather and the pitch for sure (was) not up to as we wanted. So we have suffered in the last 20 minutes.
"(And) when they scored, they could even for sure equalize (again). During the game also it  was hard because it's a team who really pushed and (were) really aggressive.
"I hope it (3-2 win) could be a good advantage but we have to be aware because I think our opponent has showed a good character. They have scored when they were 2-0. They will, I'm sure, put (us) in trouble if you are not aggressive or if you are not playing a good game," said the Spaniard.
Meanwhile, TC Sports coach Mohamed Nizam pointed that his side paid the price for their two errors in the second half.
"We played very well but we committed two mistakes and it cost us two goals. Should we have converted at least 50 per cent of the chances that we created, it would have been a great score line. We will try and win the away game, that's the (only) option now," he stated.
The return leg is scheduled for February 20th at the Kanteerava Stadium, Bangalore.