AFC Cup
AFC Cup 2017: Felda United holds Ceres Negros; Hanoi thump Tampines Rovers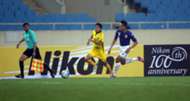 Here's a roundup of the two AFC Cup games which took place on Wednesday: 
GROUP G:
---
Ceres Negros 0-0 Felda United
---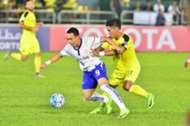 Coming off a 5-0 thumping of Tampines Rovers, much was expected of Ceres Negros when they hosted Malaysia's Felda United but they failed to sparkle at home and settled for a goalless draw. 
Not much action was witnessed in the first-half of the game before Felda United were given a glorious opportunity to win the game when Norshahrul Talaha was brought down clumsily by Ceres' Jose Porteria. But Lucas Cano's spot kick was saved by goalkeeper Roland Muller, much to the relief of the Ceres faithful. 
REPORT: Ceres 0-0 Felda United
The game ended goalless and the point meant Ceres Negros are still atop Group G with 5 points but Hanoi have caught up with them. 
---
Hanoi FC 4-0 Tampines Rovers [Arnaud 16' Van Quyet 65' Hung Dung 89' Marronkle 90+3']
---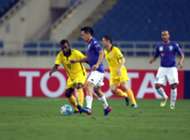 Vietnam's Hanoi FC picked up their first win of the campaign by demolishing Singapore's Tampines Rovers 4-0 in Hanoi on Wednesday. 
The home team needed just 16 minutes to open the scoring and dominated the match entirely. Loris Arnaud opened the scoring in the with a deflected shot which fooled goalkeeper Izwan Mahbud. Hanoi had to wait until the 65th minute to get the cushion of a second goal when Nguyen Van Quyet, left criminally unmarked in the box headed in a cross from the right wing.   
It seemed to have knocked the wind out of the Rovers who conceded a third goal in the 89th minute when Do Hung Dung volleyed home from close range after the defence failed to clear a high ball into the box. In injury time, Tampines goalkeeper brought down Do Hun Dung and conceded a penalty which was slotted in by Gonzalo Marronkle, bringing the curtains on what was a forgettable day for Tampines Rovers.
The result sees Hanoi join Ceres Negros atop Group G with five points each.