AFC Champions League
AFC Champions League: Al Jazira coach Henk ten Cate ready to dedicate full resources towards qualification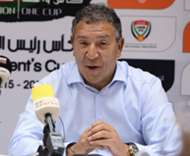 Al Jazira must avoid defeat against Al Fateh in Group B of the 2017 AFC Champions League(ACL) on Monday to keep their slim hopes of reaching the knockout rounds alive. A fourth successive defeat would see the Emirati team eliminated.
Head coach Henk ten Cate confirmed that winning the opening match against Al-Fateh is his chief focus at the moment and expressed his belief in his team's ability to qualify for the next round.
 
"We will play the game against the Saudi Open with a great desire to win and to get the full points that may help us revive our hopes of competing for one of the two AFC Champions League qualifiers," said Ten Cate speaking at the pre-match press conference on Monday evening at the Mohammed bin Zayed Stadium.  
"I admit that we did not play well in the previous rounds of the continental tournament because I had to make some difficult decisions about the players' choices for the basic line-up of the Champions League," he explained.
Conte wants Chelsea to control emotions against Man Utd
"The main reason for this is the feeling of the players. Great fatigue as a result of successive matches over a short period of time and not having the capability to rotate players. We were also more focused on the Arabian Gulf League which is our top priority this season."
Ten Cate revealed that since his side enjoy a healthy lead in the domestic league, they can now play their full strength team in the continental tournament.
"The gap has widened to eight points from the nearest competitors in the league table with only keep four rounds left so we will be able to play our full line-up in the Asian games and fight with all the strength in search of full points."
 
The Dutchman is confident that his team can reach the next round of the continental championship despite losing their first three games.
"I passed a similar position when I was technical director of the Greek team Panathinaikos and managed to lead the team to the next round in the European Championship after we got nine points from three wins in the last three games of the group stage and I have no doubt in our ability to repeat this scenario and reach the last 16."