Goal United
Academy View: Veron in Germany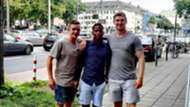 ---
ACADEMY VIEW:    YOUNG BAFANA         Follow on  Instagram
---
I really don't know where to begin, I guess I need to start from the beginning…
What I saw in Europe was just out of this world, my experience was just amazing!
I was lucky enough to visit other countries as well. Amsterdam in the Netherlands was different compared to Germany. Austria was where I was blown away by the natural beauty of the country. I managed to be close to snow!
It was in Germany that I spent most of my time.
I first noticed the cultural difference compared to South Africa and how people behave around others, respect wise. Everyone follows rules and no one is bigger than the other. They all the same.
I visited the big cities of Koln, Hamburg, Frankfurt – as well as some of the other small areas.
The biggest highlight of my trip was at FC Koln where I did an internship with their junior sides U13 and U14.
Their coaches were very welcoming and really nice. They shared everything with me, from their philosophy to how they discipline their kids. They teach team work and building trust in your friends.
The philosophy of FC Koeln is very interesting.
They refer to it as "power football", meaning their style consists of high aggressive pressing, plenty of running, physique and all this whilst trying to score quickly and not allowing the opponents much time on the ball or to get out of their half.
As a consequence, the game is always rather high paced.
Plenty of team building is encouraged, mutual respect is compulsory amongst all players and staff.
Discipline is on a different level compared to back home. Should a player be late for a session without a valid excuse it leads to a warning.
The juniors are fantastically well drilled machines, pressing in a controlled manner, with different waves.
What was fascinating about this is that their press at U13/14 level is understood and implemented correctly by each individual and by the collective.
This was brilliant to see how such young children can have a really high understanding of the game, if coached correctly.
Their facilities are on another level. I got to see the games for senior sides at the stadium. That was the most beautiful thing I've ever seen in my life! Supporters take games a bit too seriously.
During the little time I spent there, I saw most things and met with friends. The time with them made my stay in Germany so easy.