Opinion
Academy View: New beginnings represent new opportunities
Monrovia Football Academy Co-Founder & Executive Director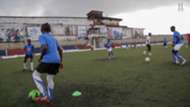 ---
ACADEMY VIEW:    MONROVIA FOOTBALL ACADEMY        Follow on Twitter
---
On Monday, September 4, Monrovia Football Academy opened its doors for its third academic year. After receiving more than 1,000 applications from children in three of Liberia's 15 counties, the Academy has grown from 47 to 70 student-athletes.
With our growth comes great responsibility – and opportunity.
The introduction of 23 new students has sparked expansion as one might expect: new academic teachers and football coaches, a new medic, a new administrative assistant. It has also spurred creativity and innovation. As we prepared for such substantial growth in our student population, we realized there were certain problems that needed to be fixed to ensure the Academy continues to represent a life-changing experience for our student-athletes.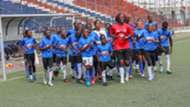 Life Skills Program
Over the past two years, the Academy has focused on five key programs: education, football, nutrition, healthcare, and gender equality. Each one of our programs has a specific person assigned to carrying out its mission.
One of the key issues identified prior to the start of our third year was the absence of a life skills program. While we taught a leadership class twice per week and emphasized key values such as enthusiasm and accountability in our school culture, we did not have a formal program specifically designed to integrate life skills into our students' academic experience.
In response, we have created a new Life Skills Program led by our talented Life Skills Program Officer, Ms. Louvette Neal. The program has five sub-programs – speech and pronunciation, computer literacy, additional reading literacy, mindfulness, and basic life skills lessons – that seek to expand on the academic and athletic experience our students already receive in the classroom and on the pitch.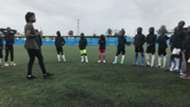 Nutrition: The Introduction of Breakfast
Good nutrition is vital for the development of young student-athletes. To ensure our student-athletes have sufficient energy during morning training sessions, we will be introducing school breakfasts in October.
Eating properly before training will enhance post-training recovery and ensure sustained energy levels during academic classes in the afternoon.
Academy Housing Program
A third important addition to the Academy in year three is our new Academy Housing Program. Since opening in October 2015, our recruitment of Liberia's brightest and most talented children has been limited to Montserrado County because of housing and transportation restrictions.
In the 2017-18 school year, we expanded recruitment into three of Liberia's 15 counties and ultimately selected children from two new counties – Margibi and Grand Bassa. To accommodate these new student-athletes, the Academy has tapped into Liberia's long host family tradition. After conducting due diligence on potential hosts, we have placed 15 of our 70 student-athletes into stable home environments managed by parents of other students at the Academy.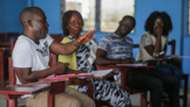 The Importance of Creativity
New beginnings represent new opportunities. Indeed, Monrovia Football Academy's early success is largely due to our ability to adapt and adjust. With the experience and intelligence of our Liberian staff, we are constantly generating new ideas and concepts that will improve our student-athletes' experience.
To resist change is to deny growth. As we expand, we will continue to search for innovative solutions to our biggest challenges, all while working to improve the quality of our existing programs.
In our third year, we aim to take the next step from a young startup to a sustainable institution. That transition will not be easy, but as long as we maintain our creative and collaborative approach, we believe it will come.
Facebook: monroviafootballacademy
Twitter: @MonroviaFA