NPFL
Abia Comets draw was important for Rivers United, says Oche Salefu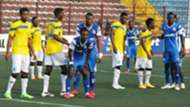 Rivers United's Oche Salefu has stated that their away draw in Umuahia against Abia Comets was just to prove to all that the lower league side were beatable after all.
Abia Comets silenced Port Harcourt fans when they shocked the Pride of Rivers 2-0 at home but they were unable to replicate the feat in Umuahia as they could only settle for a goalless draw in the return leg.
Salefu missed both games because of a thigh injury but stressed that the Umuahia side were lucky to beat them at the fortress because they made some unpardonable errors and injuries to some of their regular players.
"The game against Abia Comets in Port Harcourt was one of our worst games that I have watched," Salefu told Goal.
"They met us at the wrong time and they capitalized on it. Injuries to some of our first team players were the major reason we lost. We also made some mistakes that were punished by our opponents.
"We are working towards correcting the errors and it was important that we didn't lose a second time to them when the second game was played in Umuahia. It (the result) has returned our flair and confidence and we are looking forward to playing more games to correct our lapses."
The midfielder pointed out that he has fully recovered from the thigh injury that sidelined him for almost a week and he is now available for practice sessions.
"I am fine now and ready for training,"  he continued.
"I am looking to my return to training. I needed the rest so that I don't worsen the injury. I have rested well."