Johor Darul Ta'zim
A new Spaniard will be joining JDT on top of Ghaddar's signing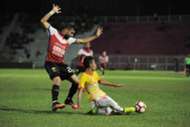 The owner of Johor Darul Ta'zim (JDT), HRH Tunku Ismail Sultan Ibrahim (TMJ) today shed light on the transfer of Mohammed Ghaddar from Kelantan to the reigning Super League champions as well as throwing in a surprise information in an audio clip released on JDT's social media.
TMJ is fully behind the team's decision to prise Ghaddar away from the Red Warriors and rubbished stories which claimed that the transfer money involved in the deal cost RM5 million.
"JDT taking Ghaddar is the most correct and smartest decision at this point in time. Therefore Ghaddar is the right call because he has shown that he can perform and he's a proven quality in the league."
"JDT as a club would not pay RM5 million for a player that is already 32 years old. I know the actual value and it is not that figure that has been rumoured. The actual price to me is a reasonable one for a player who is currently the top scorer," said TMJ.
The owner who is also the President of Football Association of Malaysia (FAM) pointed out that the club would only look to sign more expensive players when approaching a new season as the new players will have sufficient time to adapt to the new scenery as well as the team.
"As this is the mid-season transfer window, it is expensive to find a player from outside the league. Not only that, that player will also have a short time to acclimatise to the league. We will only sign an expensive import in December when they have two months to prepare with the team," added TMJ.
Kelantan today also confirmed Ghaddar's impending move and they have announced that they have accepted the bid from JDT and the transfer is only down to documentation formalities for it to be finalised.
In a surprising turn of events, TMJ went on to say that JDT will also be employing a new midfielder from Europe during this transfer window. With Marcos Antonio, Gabriel Guerra, Gonzalo Cabrera and Brian Ferreira already on the books at JDT - question marks are raised as to who this new player could be replacing.
"We will have another signing this season from Spain who will play in midfield. That will be announce in due course," said TMJ.
Ferreira's place is already been mooted as the one that Ghaddar will take up. With Antonio being the bedrock of JDT's defence and Guerra on a good goal-scoring form, Cabrera's place in the squad is the next one that looks threatened.