By Kris Voakes in Sao Paulo
Day one had Neymar. On day two it was the destructive Dutch signalling the end of Spanish dominance. By the time Costa Rica began their success story by beating Uruguay on day three, we thought we might get lulled into believing this World Cup had something special in store for us only to see pragmatism quickly take over.
But as we hurtle towards the final week of the tournament and the remaining eight games that will determine the new world champions, it is fair to say that whatever happens between now and next Sunday evening, there has not been a World Cup like this in a number of generations. If at all, in fact.
We've seen editions before which have been heavy in goals. In 1998 there were a record 171, while the 5.38 goals per game scored in 1954 will surely never be matched. But while in France '98 there were two 5-0s a 6-1 and a 4-1, and Switzerland in '54 had scorelines of 9-0, 8-3, 7-0 and 7-2, we have yet to see a true trouncing in Brazil.
Yes, the Netherlands beat Spain 5-1 and Germany overcame Portugal 4-0, but these were no Saudi Arabias, Jamaicas or South Koreas on the receiving end. These games had a magnificent story of their own, with one of the favourites to progress being cut down to size in both. Yet there have been goals galore without too many matches becoming blowouts. And but for some sensational goalkeeping, we'd already be beyond that 1998 mark.
Elsewhere, we have had fairytale stories – and just the right amount too. Too many upsets can result in the scenario we had in 2002, where many of the later games become predictable.
The early exits of France, Argentina, Italy and others in the Far East helped to pave the way for South Korea and Turkey to number among the semi-finalists despite having no real claim to a place among the world's greatest footballing nations. And when they got there, they were beaten by bigger, stronger sides without much of a fuss.
This time around, though, the underdogs have provided some heart-stopping moments for the more traditional nations without upsetting the draw so much that the matches in the final week could become predictable.
Algeria made Germany look ragged for large spells of their Round of 16 clash, while USA followed suit against Belgium. Mexico went even closer to victory before a controversial end to their match against Netherlands.
Switzerland created the better chances and then hit the post in the dying seconds as they went out to Argentina, and Nigeria only ran aground late on after carving out plenty of openings against France.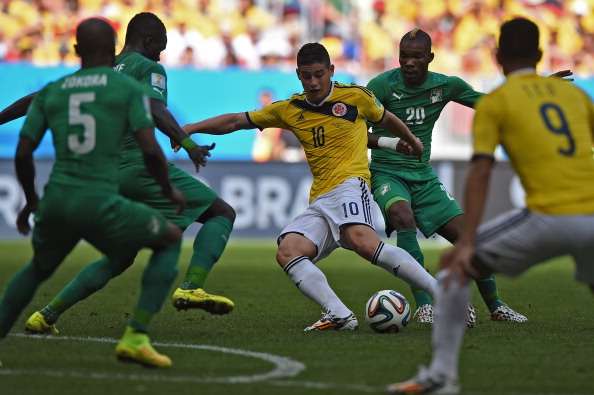 Not one of the outsiders buckled. Not one of them was battered. They all played more than their part in some of the most dramatic moments of the tournament. Never before have so many sets of fans been able to take so much pride out of their teams efforts at a World Cup.
And yet while Costa Rica's magnificent run has rightly booked them a place in the last eight, the quarter-final draw still has a largely powerhouse feel to it.
France against Germany and Brazil v Colombia threaten to be huge games. The all-European battle brings together two of the most formidable footballing nations, while the later game on Friday is one many Brazilians are fearing as a real challenge to their hopes of a home World Cup win.
On the other side of the draw, we have a Netherlands side few expected much of against a Costa Rica outfit of whom nothing at all was expected. And the winners of that will face either a Lionel Messi-inspired Argentina or a Belgium side boasting a squad of stars but also the feel of a new young force.
This World Cup has had everything, with even the duller games having spurts of great drama. The final five minutes of Argentina v Switzerland were among the most heart-stopping of the tournament, despite what had gone on before.
We've also seen teams boosted by players of the greatest potential. While Cristiano Ronaldo couldn't overcome injury sufficiently to aid Portugal, names such as Neymar, Messi and James Rodriguez all sit at the business end of the Golden Boot list and remain in a position to lead their countries to the ultimate success. Paul Pogba has been one of France's main stars, while Thomas Muller has played a big part in Germany's progress to the last eight.
Every competition benefits in a perverse way from a little controversy too, and there has been a healthy dose of that too. From weak penalty awards to protests, disallowed goals to bitten shoulders, we have had plenty to keep us occupied over the last three weeks.
While World Cups can often feel somewhat exhaustive and drawn out, this one looks set to end with us regretting its brevity. No tournament in recent memory has had so much life, so much drama, and so many of those moments you want to share with everyone you know.
And still, with just six match days left, nobody seems to want to pick a winner, so tight is the tussle between the top nations remaining. Quality, drama, tension and unpredictability abound.
This is the World Cup few of us want to end.