---

COMMENT
---
There is a reason Manchester City had no qualms paying £47.5 million for John Stones, making him the second most expensive defender of all time and the most expensive Englishman. It is because his value to Pep Guardiola is incalculable.
"I am obsessive about the build-up game, because I believe from my experience as a football player, as a coach, that when you make a good build-up from the goalkeeper, central defenders, full-backs, midfield players, the other [stuff] comes along," Guardiola said on Friday when discussing Stones' impact at his new club.
"The other [stuff] comes fluently, it comes free. When the ball doesn't come from the build-up, doesn't go out in a good way, a little bit the pass is not good or on the right foot, [then] the opponent comes earlier and our process is more complicated.
"That's why we are trying a lot in the pre-season, today as well, with our build-up. When that happens, and we create a good eight-against-six, seven-against-six in the first part of the game, we are much better, you create more and more chances for our strikers and wingers and attacking midfielders."
Stones' place in the defence is enabling City to create a raft of chances for their forwards. In his two games in a blue shirt so far he has racked up 146 passes, more than any of his team-mates, and they are serving their purpose.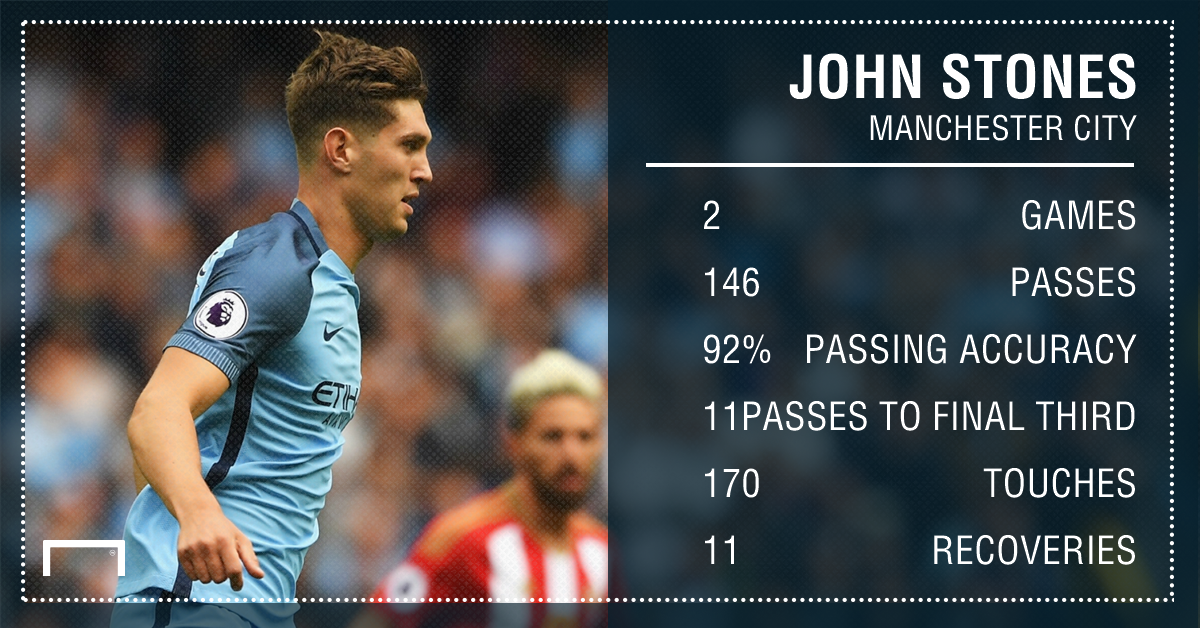 While Stones is capable of playing the seemingly simple passes which ensure his side's build-up play is smooth, he is also contributing directly to the attack. He passed into the final third 11 times in his first two games, helping to break the lines and increase the tempo.
Pep, although he tried to surpress his enthusiasm, is impressed: "He's a young player, so sometimes I'm a little bit scared to speak good about the young players because maybe they are going to become confused.
"With Fernandinho it's not a problem about that because he is more stable, or with David Silva for example, but I think John played amazingly in these two games.
"Our build-up in the last two games was really, really good because John helped us a lot in that, that's why we tried to buy him."
It was out of the question that City would not buy Stones this summer. Guardiola would not have considered it. After missing out on Aymeric Laporte, who the Blues hoped to have signed up in time for pre-season, the club struggled to identify an alternative. Laporte and Stones were the first-choice targets and, after missing one, it was imperative they got the other.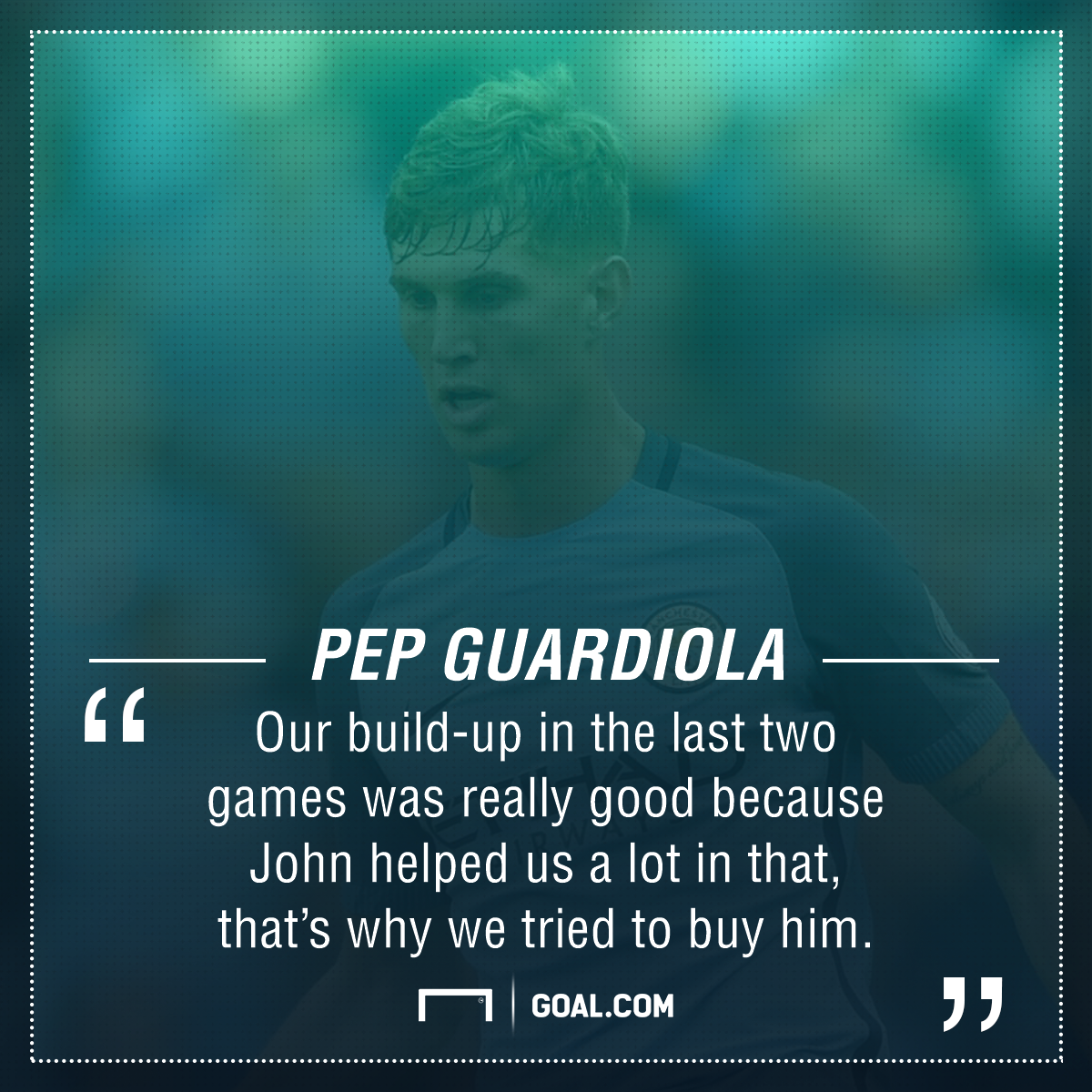 With six days to go before the season started, City lined up in their final pre-season friendly with Fernando and Aleksandar Kolarov at centre-back. Fernando was booked inside 60 seconds. But if fans were starting to panic, they need not have.
Stones was signed the very next day, and although negotiations dragged on for longer than expected, he is making up for lost time.
As well as his poise on the ball, he has shown his maturity by slotting into the right-sided central defensive role in his first game and then swicthing to the left for his second. Guardiola says he will continue to do that for the rest of the season, depending on who his partner is.
It is true that his rash decision to close down Jack Rodwell helped create Sunderland's equaliser in the opening Premier League game, and there is no doubt that the actual defensive side of his game will need to improve.
But there is a confidence that he is in the best place to do that. "I'm delighted he's gone to Manchester City, to Guardiola," Gary Neville said this week. "It's the best club for him at the moment with the manager they have.
"In the past six months there has been so much criticism of John Stones - about what he shouldn't do, about how he shouldn't play - rather than celebrating what he is, that he's willing to take big chances at the back on the ball.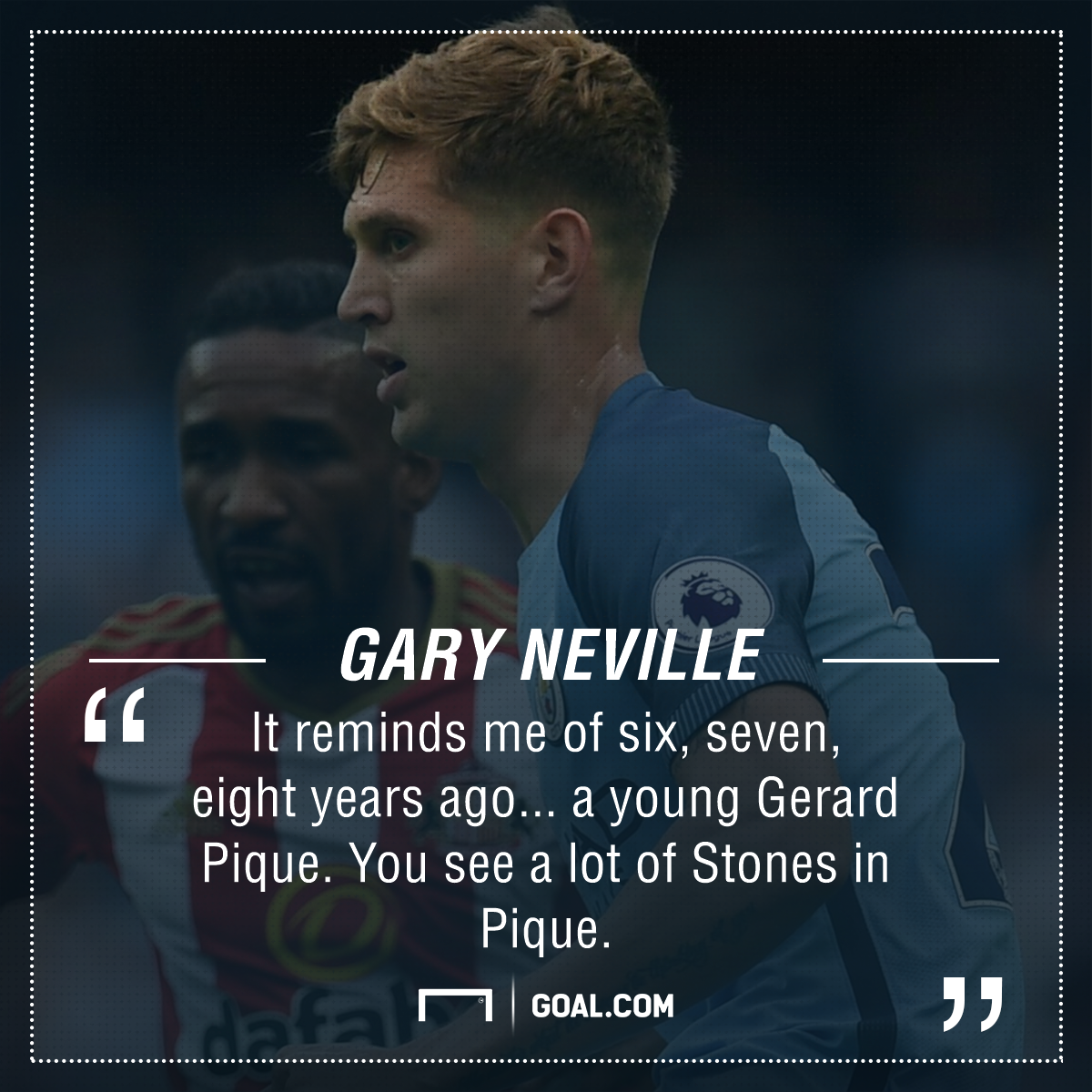 "That he's willing to pass out from the back, get on the ball as deep as possible, bring other players in, play passes into midfield. There's been a lot of discouragement in the past six months."
At City he is already getting all the encouragement he needs. Guardiola has transformed Gerard Pique, Jerome Boateng and Eric Abidal into world beaters during his time as a coach, although he admitted on Friday that the Frenchman took a considerable amount of work.
That Guardiola has identified Stones, at 22 years old, as a vital part of his plan, as somebody ready-made to put his philosophy into practice, says all you need to know.