Luis Figo's momentous visit to the South Sudan began on Tuesday, when the former Real Madrid and Portugal winger landed in Juba.
Intent on developing football in the nation Figo was met by the South Sudan Ministry of Sports, the South Sudan Football Association, South Sudan football clubs, children's football clubs and a mixture of traditional dancers.
"I am happy to be in South Sudan," Figo told reporters, "I am coming to develop football in South Sudan through the establishment of a football academy."
Figo's football academy will be established with funding from the player and the Spanish Star Petroleum Company. The academy will not only focus on developing the skills of talented South Sudanese youngsters, but will also serve as an educational base.
Outstanding players will be given the opportunity to shine at Real Madrid in Spain, which acts as a real incentive for youngsters in the country to join and begin their football journey.
Figo is the first notable football player to lend his support to Africa's youngest nation and his decision to provide funding has been greatly appreciated by the Sudanese public and leading officials.
The South Sudanese Director General of Sports Edward Sttimo believes that Figo's visit and his new football academy will inspire young people from across the nation to reach for the stars.
"We are greatly honoured today to have here with us Luis Figo a great footballer, a European football star of the year, as well as a FIFA football star for him to come to Juba is a great encouragement," remarked South Sudan's Minister of Information and Broadcasting, Dr. Benjamin Barnaba Marial.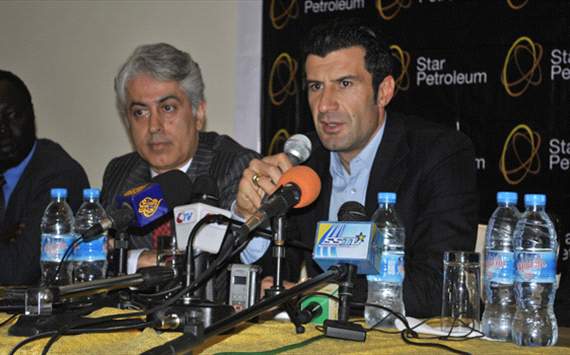 South Sudan has struggled to provide sufficient developmental tools for sport due to lack of investment, but Luis Figo's decision to sponsor the country's desire to produce football talent is a landmark occasion for the nation.
The Chairman of the Star Petroleum Company F. Zandi believes that this historic agreement is a positive step in the future of South Sudanese sport.
"Once we have harnessed young football talents through South Sudan Football Academy, we can provide them with the opportunity to train in giant Spanish clubs like Real Madrid or Barcelona," Zandi said.

"The initiative is aimed at promoting football among the youth of South Sudan, by signing up with an icon of the game like Luis Figo, Star Petroleum wants to present a role model for young South Sudanese players," he concluded.
Figo's academy is yet another step forward in the right direction in terms of developing Africa's game. Football's ability to empower and create a sense of community will not only enhance the lives of South Sudanese youths, but will also provide them with a support base which cannot be found throughout the nation.