Bayern München
1st FC Bayern Youth Cup in Singapore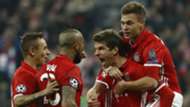 For the first time, the FC Bayern Youth Cup will be held in Singapore in April 2017. The tournament organised by FC Bayern and F-17 Football Academy, is a Under-16 seven-a-side competition will see up to 32 teams competing against each other.
The FC Bayern Youth Cup is an international tournament that has been carried out in various countries, for players between the age of 14 - 16 years. The first edition was held back in 2012 and has continued every year since.
Team Singapore will compete against teams from China, Thailand, USA, India, Austria and Germany in this sixth edition of the FC Bayern Youth Cup. The tournament will take place on the 8th and 9th of April at Singapore University of Technology and Design. 
FC Bayern club ambassador, Hassan Salihamidzic will select 10 best players and these 10 will represent "Team Singapore" in the FC Bayern Youth Cup finals in Munich in May 2017. The players selected by the former winner of the UEFA Champions League in 2001, will also enjoy training sessions with FC Bayern youth coaches, meet the first team players and watch the final match of the 2016-17 Bundesliga season at the Allianz Arena.
"I am really excited for the FC Bayern Youth Cup to be held in Singapore for the first time. I am looking forward to be monitoring the progress of the teams in Singapore on the 8th and 9th April. Watching young footballers develop their skills and sharing knowledge and experience with them during the tournament is always a pleasure," said Salihamidzic.
All boys born between 1st January 2001 and 31st December 2002 will be elligible for participation. Teams can apply for a spot in the tournament at www.f-17.org/fcbyc.
Co-owner of the F-17 Football Academy, Mizra Ismail said,"We are very honoured that FC Bayern has entrusted us with the organisation of the first FC Bayern Youth Cup in Singapore."
"This tournament provides a once in a lifetime opportunity for our Singaporean players to compete with and test their skills in an international environment in Singapore."