Kelantan v Petaling Jaya City
Yusri blames his Kelantan charges, Santos for failure to win at home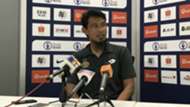 ---
BY        ZULHILMI ZAINAL       Follow on Twitter
---
Kelantan head coach Yusri Che Lah has criticised his men, as well as forward Cristiano Santos, for their failure to win at home against MISC-MIFA, in their Group C Malaysia Cup match on Friday.
The match in Kota Bharu ended goalless, and the Red Warriors are currently bottom of the group with five points, three points behind current leaders MIFA. They need to defeat Kedah at home in their last group match in two weeks' time, in order to stand any chance of advancing to the quarter-finals.
Speaking in the post-game interview with the match broadcaster, Yusri remarked that his men only have themselves to blame for their inability to come away with the three points at home.
"We failed to make things easier for ourselves, and now our chances of qualifying are rather slim. My men played well but could not put away our chances eventhough we created lots of them.
"My men need to shoulder the blame themselves, as they had a chance of improving their standings tonight. But now we have to wait until September 16 (match against Kedah) to know how it will go," he told co-commentator Syed Adney Syed Hussein in the interview.
The former Malaysia international also admitted his disappointment towards Brazilian forward Cristiano Santos, who has yet to score since joining them in the mid-season transfer window, when asked by Adney.
"I agree (that Santos has been misfiring). He needs to work harder and know that as a foreign player in Malaysia, he has a huge responsibility.
"If he can't score, he needs to at least get involved in creating chances. Disappointingly, he has not found the back of the net yet," remarked Yusri. 
Also follow Goal Malaysia's new Instagram account!