Ligi kuu Bara
Yanga sink Majimaji to earn their place in last eight in FA Cup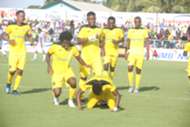 Pius Buswita and Emmanuel Martin put Yanga in a commanding two-goal lead on Maji maji stadium.
The win sends George Lwandamina's men to last eight in Azam Sports Federation Cup while Mtibwa Sugar also qualified after defeating Buseresere.
Ibrahim Ajib looked certain to open the scoring with just nine minutes gone after trying to score from a distance but Majimaji back line is well focused.
The host failed to build on that moment of near-brilliance and Yanga soon assumed control.
Yangal's breakthrough came five minutes just before the half time as Mwinyi Hajji delivered the cross for Pius Buswita to head home from a corner.
It was a goal the visitors deserved and Mwinyi Hajji should have doubled the lead before the interval when he made close range shot.
Emmanuel Martin scored the second goal for Young Africans in 57th minutes and the score board read 2-0.
Jafar Mohamed scored for Majimaji four minutes after Martin's goal and it went 2-1 to the final whistle.
Yanga joins Mtibwa Sugar, Singida United and Njombe Mji in last eight in the FA Cup.