World Cup
World Cup predictions presented by McDonald's | France or Croatia?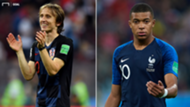 The biggest game in football is just 3 days away, and this year it will be France facing Croatia to define the world champions.
The game who will be played next sunday in Moscow is knowing the participation of a great number of big stars, as Griezmann, Mbappe Pogba from France and Modric, Rakitic and Mandzukic from Croatia.
So what's your prediction? Who can make it and be crowned the world champions?