Mexico
What's the dream draw for El Tri? Goal investigates Mexico's World Cup group scenarios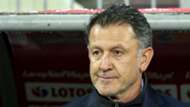 Mexico learns its fate for this summer Friday with the World Cup draw taking place in Moscow.
What are the scenarios for Mexico? How will the draw work?
If previous draws are any indication, former soccer stars and women in dazzling gowns will explain these rules to you multiple times during the course of Friday's draw. Let's summarize quickly, though, with a Mexico-centric perspective.
El Tri are in Pot 2, meaning they will be drawn with a team from Pot 1, Pot 3 and Pot 4. They can't be drawn with any team from CONCACAF, so Costa Rica from Pot 3 and Panama in Pot 3 won't be in their group. Along with clear outlier Spain, which is in Pot 2 despite closing out 2017 on a 16-match unbeaten streak, Mexico is one of the strongest teams in the pot. England and Uruguay are other Pot 2 teams that the biggest sides in the world will be eager to avoid.
There obviously are teams Mexico would like to avoid as well and others they wouldn't mind seeing in their group. Getting host Russia from Pot 1, who El Tri beat at the Confederations Cup, Tunisia from Pot 3 and Saudi Arabia from Pot 4 may be the ideal draw for Mexico. Maybe even more important than the group, though, is who El Tri would cross paths with should they advance out of the group. That opponent, the one in the round of 16, will be the one to determine if Mexico falters before reaching the fifth game once again, or if the club can make an elusive World Cup quarterfinal. 
We ran five simulations to represent the potential groups in which Mexico could find itself in Russia:
"Group H"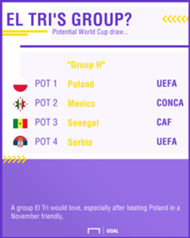 The good news here is that Mexico's group looks winnable. El Tri recently beat Poland, albeit a side without Robert Lewandowski and other stars who are sure to play a big part for the White Eagles. 
The bad news is that in this simulation, Group G contained Belgium and Spain. While El Tri were able to earn a draw with Belgium in November, it's not exactly the perfect formula for getting to "the fifth game," and Spain is a ferocious team that nobody will want to face that early in the tournament.
"Group C"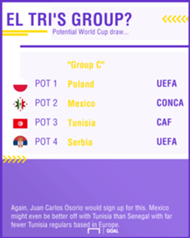 This is essentially the same group as the first draw we got except Senegal is replaced with Tunisia. It makes a group composed entirely of teams with eagles on their crests or flags. Who would fly highest? Mexico would probably be better off with the North Africans in its group than Senegal, which has many players based in some of Europe's top leagues.
Once again, Mexico is on a collision course with Spain in this simulation as Group D contains La Roja and Brazil. An upset would be required to make that fifth game.
"Group F"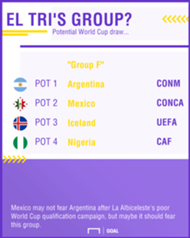 Mexico has history with Argentina at World Cups and even if that doesn't scare off El Tri manager Juan Carlos Osorio after Argentina's uninspiring World Cup qualification campaign, this looks like a tough group. Iceland is a small country but proved at Euro 2016 that it has a seat at the adult table. Nigeria ran away with its qualification group and also could cause trouble — as it showed with its November friendly win against the Argentina team that would head up this group.
"Group F Pt. 2"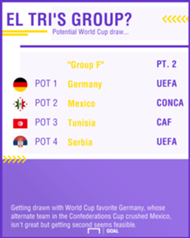 No matter what Jorge Sampaoli says, Germany is one of the favorites to win the World Cup, so it goes without saying that ending up with the defending champion in the group is not ideal. That could be extra true for Mexico, which battled with Germany at the Confederations Cup but was by far second best to a team made up of alternate players, most of whom won't be returning to Russi,a with Joachim Low bringing in his top team.
The rest of the group doesn't look so bad, though. We've already talked about Tunisia being favorable as the Pot 3 African team and Serbia isn't a bad draw either. This seems like it would have second place written all over it.
Poland and England ended up on the other side of this scenario, though, so grabbing second place and avoiding some of the teams that seem to be strongest might be worth dealing with the World Cup favorite.
"Group D"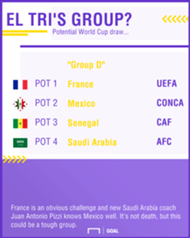 Just how good is France? Many see this French side as one of the best teams in the world at the moment, and the depth of the squad may be unmatched. Those who watch the team most closely, though, have legitimate concerns about how the team fits together. The good news is that a weak Saudi Arabia team (though one coached by Juan Antonio Pizzi who led Chile during the 7-0 thrashing of Mexico in 2015) should be easy enough to top. Senegal's speed might test Mexico's defense.
Looking at the next round, Brazil probably would await the second-place team but a Croatia team that overcame internal turmoil to qualify for the tournament is the Pot B representative from Group C.
Other scenarios: Portugal, Mexico, Sweden, Morocco
Portugal, Mexico, Egypt, Australia
Poland, Mexico, Sweden, Morocco
Russia, Mexico Denmark, Japan