Young Africans
What Yanga need to do to beat Rayon Sports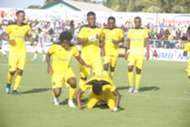 After accepting defeat in their opening CAF Confederation Cup group game against U.S.M Alger, Yanga will play host to Rwanda's Rayon Sports on Wednesday in the another CAF Confederation cup clash.
This is a very important game for the Jangwani outfit because they need to win in order to remain in contention for a quarter-final spot from the group.
Currently, group D is led by U.S.M Alger who have three points followed by Gor Mahia and Rayon Sports who have a point each after they shared the spoils in their opening game. Yanga sit bottom with no point.
The home game against Rayon Sports will be a lift for Yanga who need to keep pace with other teams in the group, considering that U.S.M Alger will be away to play Gor Mahia in Kenya.
A win for Yanga will allow every team in the group to have almost equal chances to move forward and a defeat will leave them with a hill to climb in the remaning matches.
---
Improve Tactics
---
Yanga suffered a 4-0 humiliation when they played against U.S.M Alger two weeks ago. This is because their caretaker coaches decided to "park the bus" a move which gave the home side a chance to dominate the game from the start.
Ahead of their match against Rayon Sports, Yanga have to improve tactically.
---
Attack, Attack, Attack
---
All Yanga need to do is to attack from the start to the end of the game. They have not won in any of their past seven games in all competitions but you can see that in all the games the team tried to play a defending game.
This is not important at this stage when you consider they need three points in the game in order to keep pace with other teams in the group, but also to give players a little confidence after having poor spells in the recent matches.
---
Defend with purpose
---
On the other side of the field, Yanga have to keep their territory under heavy security. After allowing U.S.M Alger to score 4 goals, the Jangwani lads have to ensure that they tighten up their backline and avoid another heavy defeat.
To allow more goals will be a disaster come the end of the group stage, especially if the teams are tied on points and the goal difference decides who goes through.
Yanga have to defend with purpose, they have to defend while finding means to move forward and score goals, not to defend with all men around their box while sending few up front.
---
Use the chances
---
Yanga have to use almost every chance they get in the match. It is very hard in this kind of game to create more than five chances but when you get two or three you have to use them effectively.
---
Reduce mistakes
---
Also Yanga have to reduce mistakes especially in the backline. Rayon Sports is among East Africa's best teams and playing they will be keen to capitalize on all the mistakes be committed by Yanga's defenders.