Premier League
What is Eden Hazard's net worth and how much does the Chelsea star earn?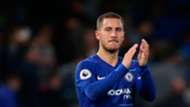 Chelsea and Belgium star Eden Hazard has emerged as a top talent for both club and country in recent years, so much so that he has caught the eye of none other than Real Madrid.
The midfielder has become one of the Blues' most significant players since arriving from Lille, and has begun to uphold a reputation as one of the best players in the Premier League – if not the best – and is constantly compared to the likes of Lionel Messi and Cristiano Ronaldo.
But with Real Madrid sniffing around for the 27-year-old, how much does Hazard earn at Chelsea, and could he be swayed to remain at Stamford Bridge if offered a new contract?
---
What is Eden Hazard's net worth?
---
According to online publication The Richest, Hazard's net worth is estimated to be £76 million ($100m).
---
How much does Eden Hazard earn?
---
Hazard joined Chelsea from French side Lille in 2012 in a deal initially reported to be worth £32 million (€36m), and has become one of the west London side's most influential and pivotal players.
He has risen as a world-class player for both Chelsea and Belgium, most recently propelling his national side to a third-placed finish at the World Cup finals in Russia, and his creativity on the pitch and importance as a team player has inevitably drawn the attention of Spanish giants Real Madrid.
The Belgian was subject to firm interest from the European champions last summer and had to watch close friend and international teammate Thibaut Courtois make the move from Stamford Bridge to the Bernabeu, but opted to remain in West London – where his current deal expires in 2020.
The 27-year-old is, however, hitting his prime form and has dropped several hints in recent months about his not-so-secret desires to join Real – which would have him realise his boyhood "dream".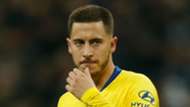 "Real Madrid is the best club in the world. I don't want to lie today," the forward said in October. 
"It is my dream since I was a kid. I was dreaming about this club. We will see. I don't want to talk about this every day. I don't have time, but we will talk about my future soon. I think so. It is also when you have a dream and you want to make it happen."
Later in November, Hazard denied that there was any possibility of him moving to Ligue 1 giants Paris Saint-Germain in the near future – but refused to rule out leaving Stamford Bridge on a permament basis at the end of the season.
"There have been contacts in the past with PSG. But I haven't been tempted. Today, there is no chance that I'll come back in the French league," said Hazard.
"For now, like I said, I'm staying at Chelsea. I have one year left on my contract after this year. Moving this winter is impossible. I can't leave in January because of the club and the supporters."
At Chelsea, Hazard takes home a reported £12m (€13.5m/$15.4m) per year through his current Blues contract, which equates to around £230,000 a week.
| Timeframe | Earnings |
| --- | --- |
| Per second | £0.38 |
| Per minute | £22.88 |
| Per hour | £1,373 |
| Per day | £32,967 |
| Per week | £230,769 |
| Per month | £1m |
| Per year | £12m |
---
What sponsorship deals does Eden Hazard have?
---
The highly marketable Belgium international has several endorsement deals, with the biggest of them being his sponsorship with Nike. 
He is also tied to contracts with China's Sina Sports for editorial spreads, the toy company Topps for a trading card line, and also works with Lotus Bakeries for various social media campaigns based around their famous Biscoff biscuit brand.
In June of 2017, Hazard also became a part-owner of the expansion of North American Soccer League franchise San Diego 1904 with a view to begin playing in 2018, along with the likes of fellow footballers Demba Ba, Yohan Cabaye and Moussa Sow.
The Chelsea forward is also an ambassador for audio company Beats, which is an official club sponsor of Chelsea. Founded by American rapper Dr Dre and record producer Jimmy Iovine, Beats first partnered with the West London club in 2016 and the deal will run until the 2020-21 season.
On his commercial deal with Beats, Hazard said: "I am a big fan of Beats. Music is important to me and the way I get ready for games, especially as we travel and are away a lot. All the Chelsea players enjoy the Beats products and it's great that this is set to continue, for us and for the Chelsea fans."
---
What charity work does Eden Hazard do?
---
In early 2018, Hazard was the brand ambassador for a new poker tournament with bwin to raise money for the charity One Drop of at least €50,000 – offering nine participants the opportunity to qualify to sit down and play with Hazard for a £10k prize pool.
bwin is also donating €1 for every player that enters a freeroll to One Drop as part of the Hazard Series initiative, which works in countries around the world to provide life-changing access to safe water and sanitation.
"I'm excited to be launching the Hazard Series with bwin," Hazard said about the cause. "I really enjoy poker and the unique psychological challenge it offers me. More importantly, it's great that through the Hazard Series bwin will be supporting such a vital charity as One Drop. Let's play together and change the game."
Hazard has also endorsed the Okocha Foundation – an initiative of former Super Eagles and PSG legend Jay Jay Okocha.
At a ceremony which took place at the I-Naira Digital Hub in the Ikoyi area of Lagos, the football legend launched a foundation geared towards giving kids, his ex-teammates and those less fortunate a new direction in life.
---
How many social media followers does Eden Hazard have?
---
Hazard is one of the most popular footballers on social media, with almost 20m followers on Instagram at the time of writing.
The forward frequently posts about his life on and off the pitch with both Chelsea and the Belgium international team. He is shown to be an affable figure with both his club and his national side, sharing photos with the likes of teammates Ross Barkley, Thibaut Courtois and Marcos Alonso.
He is well-supported on Facebook as well, with his official page boasting over 9m followers.